March 31, 2021 - 2:23pm
Nina Rhoades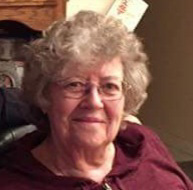 Nina Rhoades, 82 of Darien, passed away on Monday, March 29, 2021. She was born December 22, 1938 in Lackawanna NY, to the late David (Isabelle Major) Kirkby.
Nina was a strong woman with many interests. She loved church, gardening, cooking, canning, practical jokes, nursing and helping others. She belonged to Eastern Star in Altoona, Pennsylvania. She served many positions but she was very proud of being Worthy Matron in 1999 and 2005. When Nina moved to Attica, she immediately joined the First Presbyterian Church and was passionate about everything that she did. She always had kind words, a shoulder to cry on and was the best person to go to for advice. Nina was always up for a joke and had a laugh and smile that lit up. Nina was married to John Wendell Rhoades in 1961, he later passed in 2005.
Nina is survived by her children; John Wendell (Karen) Rhoades II, Christopher Lee (Sharon) Rhoades, Karen (Gabor) Bertalan. She is also survived by seven loving grandchildren, seven great grandchildren as well as many nieces and nephews.
A memorial service will be held at 11am on Saturday, April 17, 2021 The First Presbyterian Church of Attica, 115 Main St. Attica, New York 14011. She will be laid to rest in Oakwood Cemetery, East Aurora, NY.
In lieu of flowers, donations are appreciated to The First Presbyterian Church of Attica 115 Main St. Attica, NY 14011. Please adhere to the current Covid 19 regulations. For more information please call (585) 591-1212 or to leave a message of condolence visit www.marleyfuneralhome.com. Arrangements completed by Marley Funeral Home, LLC. 135 Main Street, Attica, New York 14011.