April 21, 2021 - 3:39pm
Ruth Marie Myers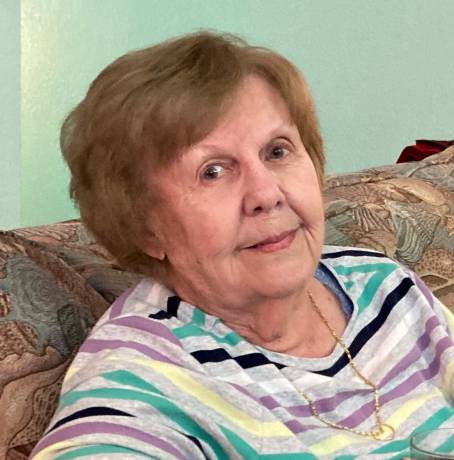 Oakfield - Heaven gained a beautiful angel when Ruth Marie Myers went home to God Tuesday, April 20, 2021 with loving family by her side.
Ruth led a full and interesting life based on family, faith and community.  She was born in Naples, New York to the late John Jacob and Vinnie Amanda Rectenwald.  She graduated Valedictorian of her class at age 16 from Naples High School and earned her teaching degree in music and elementary education at SUC Fredonia, with Suma Cum Laude honors. She went on to earn a Masters in Education from SUC Brockport.  Her first teaching job was in music at Elba Central School at 20 years old.  It was in Elba that she met the love of her life, Alan H. Myers.  They married in 1949 and took up residency in Oakfield, where they purchased the farmhouse they made home for the past 70 years and where they raised 4 children.  Ruth and Alan shared 65 beautiful years of mutual love and devotion and taught their children to be kind and good people.  
Ruth took her second teaching job in the Oakfield Alabama Central School District where she established her career as a 30+ year beloved kindergarten teacher.  Giving children the best possible start to their education became her professional passion.  She loved every child she taught, and her students never forgot her.  "I had your mother in kindergarten!"  We were honored to hear this for years.  Ruth retired from teaching in 1989 and her students still ask about her.
Ruth served her community in many ways.  She played organ and sang for St. Patrick's Parish.  She loved her church and she felt honored to provide beautiful music for 50 years.  
Ruth believed in international diversity and friendship.  She was president of the Oakfield chapter of AFS which encouraged student foreign exchanges.  It was because of her that we hosted a Chilean student, Gladys Sanhueza-Lagos, for a year.  Gladys became Ruth's 5th child and our sibling.  We have our mom to thank for working hard to expand our world-view.  
Ruth was a past president of the Hiram G. Luhman Oakfield-Alabama American Legion Post # 626 Ladies' Auxiliary as well as a long-time member of  Daughters of the American Revolution.  Ruth respected our military and served in these capacities in order to actively support our troops.
Finally, Ruth was a 50-year member of Delta Kappa Gamma Society International, an organization of professional women educators who support community needs, provide scholarships for aspiring teachers, and mentor newly-ordained educators.
 
Upon her retirement Ruth traveled extensively with her family and friends, touring Norway to attend her grandson's wedding, Costa Rica to learn salsa, Ireland, England and Scotland to experience her roots, and Italy to visit the Vatican and eat pasta.  She loved it all.  When not traveling she welcomed her many grandchildren to spend time with "grandma and grandpa" at the family homestead where she baked cookies, read stories, kissed booboos and bandaged scrapes.  She always had a grandchild in her lap.
Ruth is survived by three daughters and their families, Patricia Smith (Carrie, Juliana, Ronald (Sunniva), Jean Seeber and spouse Edward (Jeffrey (Zarah), Kayla, Michael), Bonnie Madden (Ruth, Kathryn (Kelsey), Daniel), her daughter-in-law Bertha Myers (Nicole, Carl (Patty), Michael (Elizabeth), her former son-in-law Ronald Smith, and her great grandchildren Henrik, Heidi, Celina, Audrey, Adam, Barry, Tyler, and Xander.  She is also survived by her nieces Judy Davis (Ken), Susan Horne (Richard), John Rectenwald (Elise), and Michael Rectenwald (Kim), as well as great nieces and nephews.
Ruth Marie Myers was predeceased by her husband Alan H. Myers, her son Stephen A. Myers, her granddaughter Nicole S. Myers, her siblings and their spouses Edward Rectenwald (Evelyn), and Kathryn Standish (Henry).
Family and friends are invited to call on Friday from 4 to 6 p.m. at the Burdett & Sanford Funeral Home, 11 Maple Avenue in Oakfield. Ruth's Mass of Christian Burial will be on Saturday (April 24, 2021) at 10 a.m. at St. Padre Pio Parish - St. Cecilia's Worship Site, 56 Maple Avenue in Oakfield. Burial will be in St. Cecilia's Cemetery. In lieu of flowers Memorial Donations may be made to Wounded Warrior Project, P.O. Box 758516, Topeka, Kansas 66675-8516.
Due to the ongoing COVID-19 Pandemic, both the funeral home and church will be limited to 50% capacity. Face coverings and social distancing are mandatory. There will be no gathering after the Funeral Mass, however a celebration of life will be held at a later date.
Please leave a condolence, share a story, or light a candle at www.burdettandsanford.com.