December 6, 2021 - 3:15pm
Nancy A. Cutcliffe
posted by
LaVern Falcone
.
Pavilion ~ Nancy A. Cutcliffe, age 89, passed away December 5, 2021.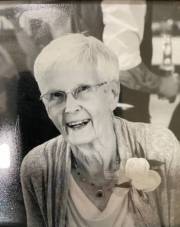 Nancy was born November 14, 1932, a daughter of the late Milton and Kathleen Whaley.  She was raised in Pearl Creek and married Edward Cutcliffe on June 16, 1951.  Edward and Nancy raised nine children. 
     She was a loving wife, mother and friend; attending all her children's sporting events cheering loudly.  She supported her family in all their endeavors.  Never one to sit still, she took up golf, learned to play bridge, loved to read and visit with family and friends, but what she loved most was Sunday morning coffee.
     In addition to her parents, Nancy was predeceased by her grandson, Kurt Kingsley, her sister, Mary "Mamie" Fay and brother, Thomas Whaley.
     She is survived by loving husband and caregiver, Edward; her nine children; Jo (David) Milligan, James (Marj) Cutcliffe, Susan Kingsley, Cathy (Doug) Cerefin, Mark Cutcliffe, Mike Cutcliffe, David (Laurie) Cutcliffe, Karen (Tom) Jeffres and Kristin (Timothy) Hoffmeister; her sisters, Peg Smith and Linda Dierks; brother, William (Sonia) Whaley; sister-in-law, Rosemary Whaley and brother-in-law, Donald (Mary) Cutcliffe; 22 grandchildren; 31 great-grandchildren and more nieces and nephews than we can count.
     Nancy was a lifelong member of St. Mary's Church in Pavilion and worked many years at the Pavilion State Bank and later, Broughton Insurance.
     She was a lifelong Pavilion Sports Fan and was the #1 fan of all her children and grandchildren's sporting events.  Therefore, contributions in memory of Nancy may be made to the "Pavilion Sports Boosters", c/o Pavilion Central School, 7014 Big Tree Road, Pavilion, N.Y. 14525.
     Services for Nancy will be private at the convenience of her family.
     Your memories and condolences may be shared with Nancy's family at www.falconefuneralhome.com.
     Mrs. Cutcliffe and her family are being cared for by the Falcone Family Funeral & Cremation Service Inc. in LeRoy.  585-768-2400