December 21, 2021 - 12:58pm
Kevin A. Lynch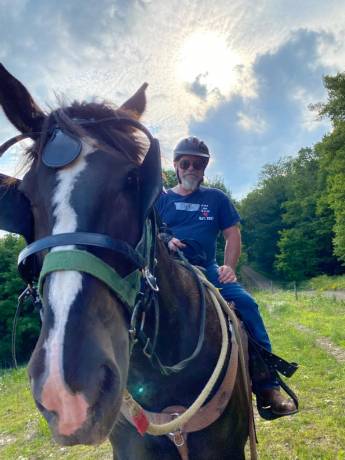 Kevin A, Lynch, 58, of Sheldon, NY passed away December 13, 2021. He was born June 17, 1963, to proud parents Robert A. and the late Sue Ann (Childs) Lynch.
Kevin enjoyed spending time with his three children from his first marriage, Colleen (Szpak) Lynch and two grandchildren. He was known as Papa Lynch to all!  He loved life, loved friends and family, loved his trucks, and loved the outdoors. To say that he was a sociable person would be putting it mildly. His laugh, energy, and enthusiasm was contagious and would light up any room. Beloved companion, Riley (Bubba), and Kevin gallivanted through the woods in the backyard and took care of his many different animals. Family and friends were sure to receive fresh eggs and meat for their freezer. Since 2008, Kevin was known as "Howdy" at Geiter Done.  He was a loyal employee and brought joy, smiles, and entertainment to everyone he worked with. We will always remember Kevin as a devoted father, grandfather, son, brother, uncle, and friend.
Kevin is survived by his children: Nathan (Jess) Lynch, Courtney (Nick) Kohlhagen, and Finnley (Sam) Lynch. His grandchildren: Kylee and Coleson Kohlhagen. His girlfriend: Kim Hamer.  His brother: David (Bonnie) Lynch and sister: Bobbie Sue (Lee) Schiffhauer. Also, many nieces and nephews.
There will be no prior calling hours, an 11:0AM Funeral Service will be on January 8, 2022, at St John Neuman in 991 Centerline Road, Strykersville, NY 14145.
 ***Masks will be required at all services. ***
In lieu of flowers memorials can be made out to Attica FFA or to the Wyoming County 4-H. To leave a message of condolence visit www.marleyfuneralhome.com. Arrangements completed by Marley Funeral Home, LLC. 135 Main Street, Attica, New York 14011.