December 30, 2021 - 8:46am
Martin B. Leggo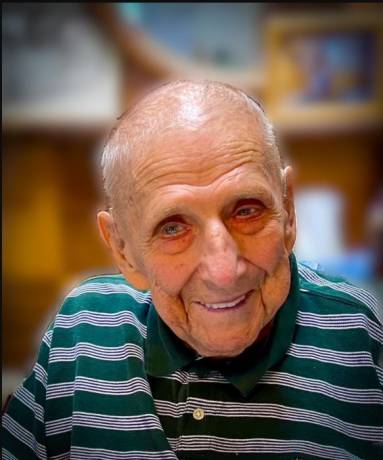 Bergen - Martin B. Leggo, 94 of Bergen passed away on Monday, (December 27, 2021) at his home.
Mr. Leggo was born June 15, 1927 in Beaver Meadows, Pennsylvania a son of the late Joseph and Anna (Baddick) Leggo. Martin was preceded in death by his wife of 59 years, JoAnn (Peters) Leggo.
Marty was a Navy veteran of World War II, and bricklayer with over 70 years in BAC Local 3 of Rochester. He was an accomplished Beagler, past President and lifetime member of the Pioneer Beagle Club.
Surviving are his children, Jacqueline "Jacky" (Ronald "Skip") Smith, Kathleen "Kathi" (Fred "Freddy") Mintz, and Martin "Joe" Leggo; grandchildren, Kyle Pangrazio, Rebecca "Becki" (fiance Mark Robbins) Rodriguez, Joseph "Joey" Mintz, Colby Leggo, Justine (Tim) Ramos, Dawn (Rob) Marsceill, Abby (Ryan) Rutherford, Beth (Steve) O'Shea, Cathi Zimmer; great-grandchildren, Jo, Hunter, Joseph, Emily, Isabella, Ava, Cheyenne, Xander, Cooper, Brandon, Dominic, Cache, Ella, Gabriella, Ty, Jaiden, Kalib, and Elyssa. Marty was loved by extended family members Karen (Jack) Dearing and Richard (Vicki) Stenner. He was a mentor and great friend to many including numerous nieces and nephews.
A Celebration of Life will be held on January 22, 2022 from 1:00 to 3:00 p.m. For details, please email the family at [email protected]. His wishes to have his body donated to the University of Rochester Medical School were honored. He and JoAnn will be laid to rest in Western New York National Cemetery at a later date.
In lieu of flowers, memorials may be made to Crossroads House, PO Box 403, Batavia, New York 14021, a charity of the donor's choice, or tell someone a joke in his honor. Arrangements were entrusted to H.E. Turner & Co. Funeral Home in Bergen.  Please leave a condolence, share a story, or light a candle at www.bataviafuneralhomes.com.