March 25, 2022 - 2:31pm
Harold Strachan Gouinlock
posted by
Ronald Konieczny
.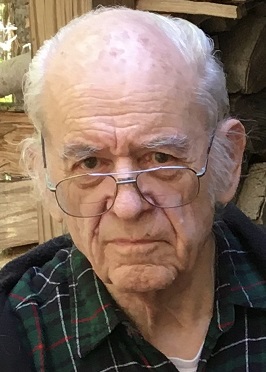 Harold Strachan Gouinlock, 93 of Alexander, passed away March 24th, 2022 at the Edna Tina Wilson Living Center in Rochester where he had resided since August of 2021. 
He was born in Batavia, New York March 13th, 1929, the son of the late Harold and Marie Lindsey Gouinlock.  He graduated from Batavia High School in 1947.  From there he attended Cornell University where he majored in engineering. 
He then joined the Army and went overseas to fight at the front lines in the Korean War.  He rose to the rank of sergeant and was proud to become a member of the Military Police Corps during the war. 
After the war he returned to Batavia to work at the Climax Corporation, a family-owned business that manufactured the well known Bidwell Bean Thrasher.  There he was involved with engineering and testing new equipment.  Additionally he was an officer of the corporation, eventually assuming the role of President in the late 1960's. 
In the 1970's he worked at C&H Welding Supply in Batavia and eventually got back into engineering at Trojan Industries in Batavia. He worked in Trojan's engineering department for many years before retirement in 1990. 
Known as Bob by some, Gunner by others, he was well known for his love of motorcycles, guitar playing, and gun collecting.  He found great enjoyment fixing and creating mechanical things, and was always happy to help someone with an interesting mathematical or engineering question. 
In addition to his parents, he is predeceased by his wife, Ann Embury Gouinlock who passed away in 2014, and his sister Dorothy Gouinlock Booher. 
He is survived by his sons, Robert (Rebecca) Gouinlock of Attica and Richard (Kevin Iacovelli) of Queens New York, his grandchildren Elizabeth and William Gouinlock, along with many nieces and nephews. 
There will be no calling hours.  A private family celebration of life will be planned for a future date. 
Memorials may be made to the Wyoming County SPCA, 808 Creek Road, Attica, NY 14011. Expressions of sympathy may be shared with the family at: www.mcandrewfuneralhomes.net.
ARRANGEMEENTS WERE ENTRUSTED TO THE J. LEONARD McANDREW FUNERAL HOME, LLC, 2 BOGUE AVE., BATAVIA, NY 14020. RONALD KONIECZNY II, DIRECTOR.