June 3, 2022 - 12:58pm
Carol L. Coffta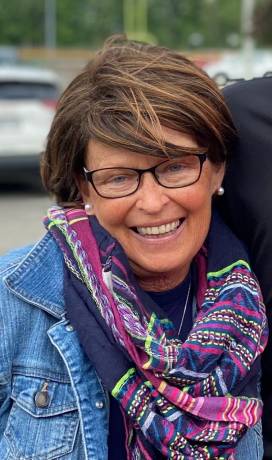 Carol L. Coffta, 59, of Bergen passed away peacefully at home on June 1, 2022 surrounded by her loving family. She was born in Brockport on September 4, 1962 to Richard and Joyce (Sloper) Sands of Bergen. Carol is predeceased by her sister; Laurie Sands.
Those that had the pleasure of having Carol in their lives will remember her as the most generous and loving person they met, but even better than that it was her ability to teach those same attributes to others.
From the moment Carol woke, until the time she laid her head to rest she was teaching.  She taught love, kindness, forgiveness and inclusion along with her every day lessons to whom would become the young leaders of the world.
In the morning Carol would grab her infamous red Ms. Frizzle bag and be off to change children's lives forever, and that she did.  One of the greatest compliments Carol ever received was when someone told her "You teach like you are Mr. Rogers' daughter". Something she was very proud of and brought a smile to her face.
If we had to rank all of Carol's finest accomplishments then above all things she did, she simply made this world a better place one student at a time leaving a lasting imprint for all of us to emulate.
She is survived by her loving husband; David Coffta of Bergen; sons Jonathon (Marissa) Coffta of Greece and Jordan (Fiancé Hailey Stevens) of Holley;  siblings Wendy (Greg) Didas of Bergen, Byron (Chris) Ariyaratnam of Bergen, Timothy Sands and Todd Sands both of Rochester; mother and father in law Chuck (Carm) Coffta of Batavia; brothers and sisters in law of the Coffta family; grandchildren Dominic, Grant and Elijah Coffta; 11 nieces and nephews, 14 great-nieces and nephews; dearest friend Janet Cappotelli and the Red Raider family, along with thousands of little friends.
A 2:00PM Funeral Service will be held on Tuesday June 7, 2022 at Gilmartin Funeral Home & Cremation Company, Inc. 329-333 West Main Street Batavia, New York 14020, immediately followed by visitation from 3:00-6:00PM at the Funeral Home.
Flowers are gratefully declined. Memorials may be made to the Gillam Grant Community Center 6966 W. Bergen Rd. Bergen, NY 14416 or in C/O Wendy Didas to be used toward a Memorial Playground in Carol's honor.  For more information please call (585) 343-8260 or to sign a message of condolence please visit www.gilmartinfuneralhome.com. Arrangements completed by Gilmartin Funeral Home & Cremation Company, Inc. 329-333 West Main Street Batavia, New York 14020.