July 6, 2022 - 1:34pm
Florence (Peca) Lullo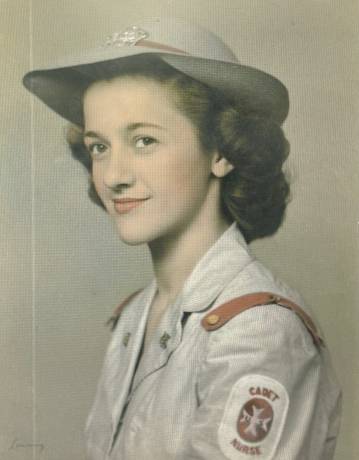 Florence Peca Lullo passed away peacefully on July 3, 2022.  Florence was born January 9, 1925 in Batavia to Samuel and Maria (Michetti) Peca.  In addition to her parents Florence was predeceased by her husband Donald "Danny" Lullo, daughter Ruth Zsiga (Kenneth) Hill, sisters Rose (Paul) Monachino, Jennie (Dominic) Irrera, and brothers John and Anthony (Theresa) Peca.
Florence graduated from Batavia High School in 1942 and was proud of being the school's tennis champion.  Florence would often reminisce about her summers working on the muck farms-a truck would pull up on the street and everyone would hop in the back and head off to the fields in the Elba area.  She married Danny in 1946 and soon after built their home and raised their family on Buxton Avenue.  Seven years after the birth of their daughter Cathy they made a bold move and adopted three siblings from foster care via Catholic Charites.  Florence and Danny provided a safe, warm and loving home for Ruth, Mike and Danny while doubling their family size overnight.  Florence got her real estate broker License (believed to be the first woman in Genesee County to do so) and later getting her insurance license as well.  During her working years she actively worked at her husband's insurance and real estate agency, the Donald Lullo Agency which later became the Lullo & Lawley Agency
Florence hosted numerous Batavia Clipper and Muck Dog players in her home for many years.  During many of the home games, you could always find Florence sitting behind the third base line enjoying the game.  Florence also assisted with the ARC Danny Lullo Golf Tournament for numerous years.  She alsio loved reading, playing cards and playing the game of golf.
Florence is survived by her daughter Cathleen (Kevin) Earl, sons Michael (Cecelia) Lullo and Daniel (Janet) Lenox, grandchildren Rene Becker, PhD. (Tony), Amanda Earl, Michael (Julie) Zsiga, James, Joseph and Michal Kathryn Lullo, Susie Magoffin (Travis Heschke), and Jon (Stacy Lu) Lullo, and great grandchildren Gavin Becker, Gunar Zsiga, Samantha and Alex Magoffin.  Also survived by her sisters Julia Scalia and Margaret "Maggie" Worth, sister-in-law Mary Lullo as well as numerous nieces, nephews, and their children.
There will be a Mass of Christian Burial at Ascension Parish at the convenience of the family with burial following at St. Joseph's Cemetery. After 36 years she and Danny will finally be reunited.
In lieu of flowers, memorials may be made to either Catholic Charities or the Richmond Memorial Library. To leave a message of condolence please visit www.gilmartinfuneralhome.com. Arrangements completed by Gilmartin Funeral Home & Cremation Company, Inc. 329-333 West Main Street, Batavia, New York 14020.