Image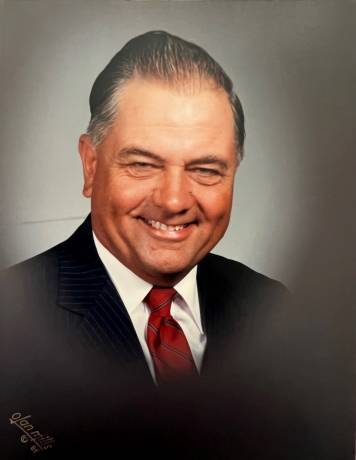 Surrounded by the peace and familiarity of his cherished home of 72 years, Donald Frederick Rudolph slept comfortably away to his new forever home in Heaven in the early hours of August 9, 2022, after a long, determined fight to remain with those on this earth who loved him.
Donald was the third of four children born to Frederick and Mildred Michel Rudolph on the family farm in Bennington Center, NY on November 18, 1929.  He grew up following in the footsteps of his "Pa" and his older brother, Richard, and farming became his way of life for nearly 93 years.
He was educated with his brother and sisters in a two-room schoolhouse In Bennington, and graduated from Attica High School in 1948.  He received a farm draft deferment, and continued to work tirelessly to make his farm and home a place of beauty and a tribute to God, his family, and his community.  A man of deep integrity and Christian character, he took great pride in the cleanliness and care of his animals, his barn, and the upkeep of his land and property.  His farm earned him "Dairy of Distinction" honors, "Decade of Distinction" honors, and it was named a NYS "Century Family Farm" in 2000.  Weak and tired from fighting disease, he was still determined to mow the lawn surrounding his barn on his trusty John Deere lawnmower just days before he passed.
Don was a strong advocate of many dairy/agricultural organizations throughout his life.  He was the last President of the Darien Juvenile Grange, a member of Wyoming County Extension and Bill Paxon's Dairy Committee, President of Wyoming County Farm Bureau, a member of the NYS Farm Bureau Board of Directors from 1982-1990, NYS Membership Chairman for three years, and a NYS delegate to National Farm Bureau for many years.  He was a well-known director of Milk for Health and the NYS Bargaining Agency for years and received a special citation from the American Dairy Association and Dairy Council in 1989.  Of greatest accomplishment in his agricultural life, he was a director of Upstate Milk Buffalo Co-Op from 1973-2000 and was elected President of the Cooperative from 1992-2000.  He also represented Upstate Milk on the Dairylea board.  He treasured his friendships and experiences from these organizations and remained in touch with many colleagues throughout his lifetime.
Don was a member of the Bennington Volunteer Fire Department while he was actively farming, and always dropped whatever he was doing whenever the fire whistle sounded to go to the aid of someone who needed his help.  He was a life-long member of Salem United Church of Christ in Bennington, where he and his entire family worshipped regularly.  He was a constant in the church, joyfully serving the Lord in many capacities from lawn-raker to Gospel reader to maintenance man to Couples Club enthusiast.  For much of his lifetime, he was a member of the Church Council, serving as secretary, financial secretary, and president.
"Uncle Donnie" may best be remembered for his love of parading with his well-worn trumpet!  As a youngster, he began playing in the Cowlesville Band with his older siblings, then played with the Sheldon Town Band from 1946-1959.  In 1960, he became a faithful member of the Alexander Fireman's Band, actively participating into his nineties.  His unprecedented devotion continues to have a positive impact on the longevity and success of the band today, as 30 members of the Rudolph family have participated in the Alexander Band over the years.  Many of his relatives are still active in the band, and he will always be remembered as "Uncle Donnie" to all, whether you were related to him or not.
Don met his beloved wife, Jean Marie Dabb Rudolph, at a square dance in Town Line, NY, and shortly after, they were married during a blizzard on November 29, 1950.  They moved to a remodeled tenant house on the farm where they lived happily together for 58 years.  In addition to his dear wife, Don was predeceased by his parents; his brother, Richard M. Rudolph; a sister, Lois M. Pond; brothers-in-law Wayne E. Phelps, Lawrence F. Pond and Charles L. Myers; godson, William Rudolph, and his special nephew, Bryan Phelps.  Survivors include his loving daughter, Cindy (James) Dolan; his amazing grandchildren: Erin (Jason) Dressel; Lindsey (Zachery) Clark; and Kacy (Jessica) Dolan; and his precious great-grandchildren: Jake and Elise Dressel, Brody and Madison Clark, and his "Little Carrot", Garrett Dolan. He is also survived by his sister, Myra Phelps; sisters-in-law, Jean Susan Rudolph and Lois Myers, eight godchildren, and many nieces, nephews, and friends.
Don Rudolph- dad, grandpa, brother, uncle, and friend – loved farming, mowing lawn, parading, tractor pulls, square dancing, clip-on ties, chocolate chip cookies, fields of crops, Pepsi, auctions, Lawrence Welk, brass bands, the Amish, bus trips, slide shows, ice cream, and taking his car "out for a spin".  He loved his home and his farm, his church, his many friends, and his beloved, cherished family.
His unique whistle, his gentle bear hugs, his infectious laugh, his million-dollar smile, and his unconditional love for his family will be forever missed, but never forgotten.
A Memorial Service and visitation will be held Wednesday, August 17, 2022, at "The Farmstead", 2760 Maxon Rd., Varysburg, NY.  The family will be present from 9:30 to 11:00 am, with a Celebration of Don's Life beginning at 11:00 am. He will be laid to rest in Forest Hill Cemetery in Attica.
In lieu of flowers, please consider a memorial to Salem United Church of Christ 1325 Clinton Street Rd, Attica, NY 14011 or the Bennington Volunteer Fire Department 1353 RTE 354, Attica, NY 14011. To leave a message of condolence please visit www.marleyfuneralhome.com. Arrangements completed by Marley Funeral Home, LLC, 135 Main Street, Attica, New York 14011.