Onalee (Davis) Duthe, age 95, of Pavilion, New York, lived from June 8, 1927, to August 14, 2022.
Image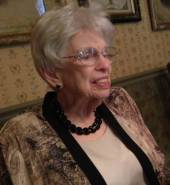 A daughter of the late Arthur and Gladys (Buckley) Davis, she was born in Niagara Falls, New York and attended grade school in Thorold, Ontario. She returned to New York and graduated from Niagara Falls High School in 1945. In 1948 she married Richard Duthe, who predeceased her in 1971. As a widow, Onalee returned to college to become a teacher, retiring in 1996. A trained soprano, she sang solos and performed with choirs all of her life. She was a member of First Baptist Church in Pavilion.
Survivors include her children; Richard (Kitty Baker), Donald (Denise) and Bonnie; grandsons; Mark (Keri) and Ryan (Betsey); great grandchildren; Thomas, Theodor, Peter, and Quinlan; brother, William (Lois) Davis; dear friend and colleague, Linda Starkey, as well as nieces and nephews. She was predeceased by her sister, Ada (William) Budde.
Burial will be in Niagara Falls Memorial Park Cemetery.
Your memories and condolences may be shared with Onalee's family at www.falconefuneralhome.com.