September 29, 2022 - 8:53am
William G. Emerson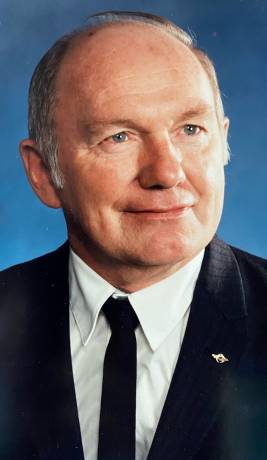 William G. Emerson, 88, of Byron passed away on September 27, 2022 at Crossroads House in Batavia. He was born on December 31, 1933 in Nanty-Glo, Pennsylvania to the late Thomas and Goldie Mae Bracken. William is predeceased by his wife; Barbara (Foreman) Emerson; daughter Linda Grimes; son William "Billy" Emerson; his aunt Jean Connah, who raised him; brothers Steve, Jack, Tom and David Emerson.    
Bill was a United States Army veteran. He worked as a pipe fitter at Kodak for many years. He loved hunting and fishing, feeding Blue Jays and napping on the porch. Bill enjoyed watching The Price is Right, reading autobiographies and listening to the local radio. He was a devoted member of the Byron Presbyterian Church.
He is survived by his son; Dale Emerson; grandchildren Mike (LeAnn) Emerson, Greg (Sarah) Emerson, Jessica (Nick) Gregori and Sara Emerson; great-grandchildren Aubrey, Lillian, Lianna, Kayla, Addison, Avery and Benson; great-great-grandson Andre, along with many nieces and nephews.
Family and friends are invited to call on Monday October 3, 2022 from 10:00-11:00AM at Gilmartin Funeral Home & Cremation Company, Inc. 329-333 West Main Street Batavia, New York 14020. An 11:00AM Funeral Service will immediately follow visitation at the Funeral Home. Bill will be laid to rest in Byron Cemetery.
In lieu of flowers, memorials may be made to Crossroads House www.crossroadshouse.com. To leave a message of condolence please visit www.gilmartinfuneralhome.com . Arrangements completed by Gilmartin Funeral Home & Cremation Company, Inc, 329-333 West Main Street, Batavia, NY 14020.