October 21, 2022 - 9:29am
Ruth R. McVay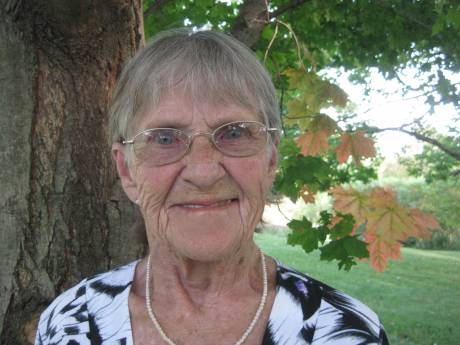 Ruth M. Alwardt McVay left her earthly home on October 19, 2022, at the age of 89 for her eternal home. Ruth was born on July 13, 1933 in Darien New York. Ruth is the daughter of the late Everett Alwardt and the late Stella Post Alwardt and the wife of the late Albert McVay.
Ruth graduated from the Alexander Central School in 1956. She was employed by JJ Newberrys, for several years. She married the love of her life Albert McVay on March 23, 1957. She was a loving mom and grandmother to her children and filled the home with joy. Not only did Ruth love jokes and pranks but enlisted her family members to engage in these adventures. This was a shared trait among her and her siblings as well. She was a Member and a Sunday school teacher at West Bethany Baptist Church. Later in life she became an AWANA secretary and Sunday school helper at the Attica First Baptist Church. She was a 4-H leader for many years and enjoyed baking, gardening, and was an avid bird watcher. Ruth took a special interest in classic cars, loved taking trips, and vacations with her family, as well as friends.
Ruth is pre-deceased by her husband Albert, her sons Dennis and Lloyd, her siblings, Mildred (Harvey) Bartz, William, Harold (Mary), Keith (Diana), and Dean Alwardt.
She is survived by her children Denise McVay, Wendy (David) Parker, Bernard McVay, Sandra (Todd) Schrauger, Duane (Vickie) McVay several grandchildren, great grandchildren and many nieces and nephews.
Friends are invited to call on Tuesday, October 25, 2022 from 3:00pm to 7:00pm at Marley Funeral Home, LLC., 135 Main Street, Attica, NY 14011. An 11:00AM Funeral Service will be held on Wednesday, October 26, 2022 at West Bethany Baptist Church, 10333 W. Bethany Road, East Bethany, NY 14054. She will be laid to rest in West Bethany Cemetery.
In lieu of flowers, please make donations to the Alexander Fire Department, 10505 Main Street, Alexander, NY 14005. For more information please call (585) 591-1212 or to leave a message of condolence visit www.marleyfuneralhome.com. Arrangements completed by Marley Funeral Home, LLC. 135 Main Street, Attica, New York 14011