Image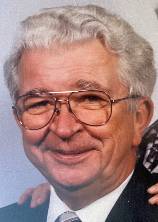 Batavia – Richard F. Seymour was reunited with the Lord, his wife and their son on Friday, November 18, 2022, after his passing at the NYS Veterans' Home at Batavia, NY. He was 90 years old. A man of faith, he was a member of the Northgate Free Methodist Church.
Mr. Seymour was born August 2, 1932, in Lyons, NY, the son of Franklin and Laura Woods Seymour. He was predeceased in death in 2008 by his wife Kathryn Keif Seymour and son, Paul H. Seymour in 1984.
Perhaps best remembered for his numerous contributions to the education of the children of Batavia, Mr. Seymour served as a General Science teacher, Science Department Chairman, Assistant Principal and Principal at Batavia Junior High School. He retired from the Batavia City School District as Assistant to the Superintendent. Known fondly to his colleagues as "Dick" you could be sure to find him after school either enjoying his weekly bowling on the Batavia Teachers' Bowling League or announcing and taking stats for all the home Batavia Blue Devil Varsity Basketball games.
Mr. Seymour's contributions to our country and community are numerous. From 1953-1961, he was a member of the US Army, bravely serving in the Korean Conflict. He has been a lifetime member of the Sertoma Club; a long-standing Board member of Homecare and Hospice, GCASA, Genesee Memorial/ UMMC Hospital Board, Grand View Cemetery Future Development Committee, Victim's Impact Panel, Salvation Army, the NYS Retired Teachers' Association; Genesee Arts Council GO ART! having The Seymour Place named in the family's honor.
Baseball, basketball, and soccer were the type of sports Mr. Seymour followed. He was an active supporter and season ticket holder to the Batavia Muckdogs minor league team and served on the booster club and Board of Directors for both the Clippers and Muckdogs. He and Mrs. Seymour hosted young baseball players during the summer seasons for many years. They also hosted educators from around the world as active members of the American Host Program.
Richard was the co-developer and co-chairperson of the First United Methodist Church food ministry where for many years, he shared his love of cooking by organizing and preparing meals to host school sports teams' end-of-season banquets, weddings, and community social gatherings.
Never at a loss for words, Mr. Seymour enjoyed sharing memories of his travel experiences, especially his trip to Alaska. His interests included all things science related, history, sports, and bowling. He was a collector of coins, stamps, and National Geographic Magazines. Additionally, at the NYS Veterans' Home, Richard was Resident Council Secretary and enjoyed doing the morning announcements. He was a man of integrity and a friend to all.
Mr. Seymour was husband to the late Kathryn F. Seymour and father to the late Paul H. Seymour. Survivors include his twin sister Jane Seymour Pask of Fairport, NY, nephew John and his nieces Mary and Carrie; Brother-in-laws/sister-in-laws John and Joyce Marshek, Batavia, NY, Barbara Read, Elba, NY, Charles Keif, Batavia, NY and James Keif, Ocala, FL and their families. Also surviving are his close friends Dave and Holly Parzych, William Thayer, Jr., and Fran and Bobbi Norton.
Friends may call on Tuesday, November 29 th from 11:00 a.m. to 1 p.m. at Northgate Free Methodist Church, 8160 Bank Street Road, Batavia. Services will follow at 1:00 p.m. Burial will be in the Grand View Cemetery. Memorials may be made to Homecare & Hospice, 550 E. Main Street, Batavia NY, The UMMC Foundation, 127 North Street, Batavia NY, The Batavia City School District Foundation, Inc., 260 State Street, Batavia NY to create a scholarship in honor of the Seymour Family, or the NYS Veterans' Home at Batavia NY, 220 Richmond Avenue, Batavia NY.
Arrangements were completed by the H.E. Turner & Co. Funeral Home of Batavia. Condolences may be
made at www.bataviafuneralhomes.com.