November 25, 2022 - 8:52am
Jean Catherine (Cross) Kent
posted by
LaVern Falcone
.
Stafford ~ Jean Catherine (Cross) Kent passed peacefully on Wednesday November 23, 2022, at her home after a long battle with dementia. Born June 6, 1934, she was predeceased by her parents, Ray and Catherine Cross, twin sister, June (Ken) Wallace, sister, Bonnie Babbitt, and brother, Jim (Dottie) Cross, great-granddaughter, Caroline Welch, son-in-law, Kevin Carhart and sister-in-law, Jeanne (Len) Jackson.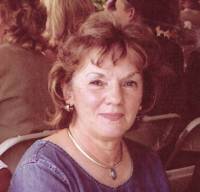 Jean loved horses and fell in love with her cowboy in high school. She and William (Bill) Kent married October 4, 1952, and just celebrated 70 wonderful years together. They always had at least a couple of horses in their pasture. They especially loved overnight trail rides and many horse-related functions with their friends and family, Jean could always be counted on to bring a special type of cowgirl bling to the event.
     Jean managed the books for the family auction & real estate business, William Kent Inc. Bill and Jean traveled to far-off states such as Alaska and Hawaii to sell Holstein cattle, as well as countries like Canada, Holland and Mexico and on international cruises. Among their highlights were selling cattle at Madison Square Garden and the Grand Ole Opry. Along the way, they made many lifelong friends and Jean could always be found in the middle of the fun!
     Jean loved people and especially loved attending her kids, grandkids and great-grandkids' events, including horse and cattle shows, sporting events, concerts, and musicals. She took countless photos so we could always remember the joy they brought her.
     Surviving are her husband, Bill Kent, children, David (Patty) Kent, Debra (Kyle) Welch, and Connie Carhart; grandchildren, Josh (Heather) Kent, Amber (Jason) Tomlin, Seth (Lauren) Kent, Caitie (Tanner) West, Tim (Erica) Welch, Riley (fiancé Karen) Carhart, Ciera (Bill) Trojanowski, Sutton (Katie) Carhart, Danielle (Brock) Cummins, Maegen Dills, great-grandchildren, Payton, Landon, Ainsley, Maddox, June, Everly, Chelsea, Charlotte and Elsie, several nieces and nephews, brothers-in-law, Bob Babbitt and Paul (Dawn) Kent, and many wonderful friends.
     A service will be held in the Spring. Memorials may be made to Home Care and Hospice of Western New York, Morganville United Church, or the Stafford Volunteer Fire Department.
     Your memories and condolences may be shared with Jean's family at www.falconefuneralhome.com.
     Mrs. Kent and her family are being cared for by the Falcone Family Funeral & Cremation Service Inc. in LeRoy.  585-768-2400