LeRoy ~ Barbara Ann Knitter, age 74, of Randall Road, passed away unexpectedly at home early Thursday morning, December 8, 2022.
Image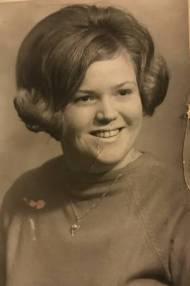 She was born May 8, 1948 in Batavia, the daughter of the late Robert and Lucille Love Peterson.
     Barbara was a loving wife, mother, sister, aunt and dear friend to many.  She was a very caring person and a wonderful homemaker. Barbara cherished her family, granddogs, baking, camping and the holidays. 
     She will be sadly missed by her loving and devoted husband of 53 years, Patrick Knitter; daughters, Beth Knitter (John Frank) and Erin (Lacee) Griffith; siblings, Albert "Fran" (Jane Dewberry) Peterson, Timothy Elmore and Gail (Jerry) Blair; In-laws, Peter Knitter, Gail (Jim) Horne, Thomas (Janice) Knitter, David (Fran) Knitter and Julie Knitter, along with many loving nieces, nephews, cousins, great-nieces and great-nephews.
     Barbara was predeceased by her loved ones; Eugene "Gene" Elmore, Elmer (Grace) Knitter, Joanne Knitter, Suzanne Lenhard and Michael Knitter.
     Family and friends are invited to her Rite of Christian Burial to be held on Friday, Dec. 16 at 11:00 AM at St. Martin de Porres Parish at St. Mary of the Assumption Roman Catholic Church, 99 Main Street, Scottsville, N.Y.  Interment will be private in St. Francis Cemetery, LeRoy.
     In lieu of flowers, memorials are suggested to either Lake Plains Dialysis, 587 E. Main St., Batavia, NY 14020 or LeRoy Ambulance Service, P.O. Box 56, LeRoy, NY 14482
     Your memories and condolences may be shared with Barbara's family at www.falconefuneralhome.com.