December 30, 2022 - 12:18pm
James H. Peters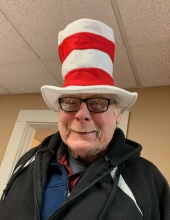 James H. Peters, age 82, of Perry, passed away Sunday December 25, 2022 at the LeRoy Village Green where he had been residing. He was born in Franklinville, NY on March 26, 1940 a son to the late Ralph B. and Florence M. (Beach) Peters. Along with his parents he is preceded in death by a son: Jerry Peters who passed away in 2021
Jim was a bus driver for the Wyoming County Transit where he was known as driver #1. He was a former volunteer for the Pike Fire Department, and former Boy Scout Leader. He enjoyed trapping, hunting snowmobiling, crafting, playing cards and board games and was an avid Buffalo Bills Fan.
He survived by his companion of 36 years Andrea L. MacGonegal of LeRoy, 4 daughters: Lisa (Scott) Falkner of LeRoy, Judith (Robert) Wilson of Frenchburg, Kentucky, Ahrena Dean of Florida, Michele Garman of Webster, 2 sons: James B. Peters Sr. of Attica, James R. (Angela) Peters of Warsaw, his beloved pet dog: Toby, brother John Peters of Wisconsin, Grandchildren James B. Peters Jr., Bethany E. Peters, Abigail M. Peters, Joshua M. Peters, Shanna R. (Dave) Nieman, Kevin E. (Ashley) MacGonegal, Courtney L. MacGonegal, Robert (Wendy) Wilson, Thomas Wilson, Walter (Kashen) Wilson along with many other grandchildren, 13 great grandchildren and numerous nieces and nephews.
A Celebration of Life gathering will be held on Friday December 30th at the Perry Fireman's Building located in the Perry Village Park in Perry from 12-4PM.
For more information please call (585) 237-2626 or to leave a message of condolence visit www.eatonwatsonfuneralhome.com. Arrangements completed by Eaton-Watson Funeral Home, LLC. 98 North Main Street Perry, New York 14530.