Catherine Eileen (Parmelee) Pullyblank began her eternal journey on January 14, 2023 with her loving family by her side.
     Survived by her husband of 56 years, David L. Pullyblank; her daughter and son-in-law, Brenda (Ace) Ball of North Chili; her son and daughter-in-law, David (Beth) Pullyblank of LeRoy; her beloved grandchildren, Nicholas, Hannah, Jennifer, Allison, Sydney, Dylan, Austin, and Cody; her great grandchildren, Emma and Gabriella; and her best friend, Barbara Miller.  
Image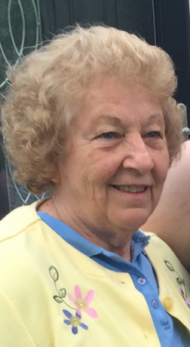 Catherine (Kay) was born May 24, 1943, a daughter of John Parmelee and Beatrice Bobzin. She grew up and lived her life in the Fort Hill area of LeRoy, NY.
     Kay earned her degree in Physical Education from West Virginia University and was a proud Mountaineer. She taught physical education at Pavillion Central, Perry Central, Caledonia-Mumford Central, and for 18 years at LeRoy Central school. During her years teaching, you would find Mrs. P in the gym or on the athletic fields long after the school day was complete as she enjoyed coaching. She coached varsity soccer, volleyball, softball, cheerleading, and track and field. She led Perry Central cheerleaders to a Section V championship.
     Kay passionately enjoyed gardening and her home is surrounded by the marvelous gardens she created. She was always very content pulling weeds in those gardens, quilting with Barb, and was an avid spectator at all of her grandchildren's activities. She was an adoring and devoted wife, mother, grandmother, and friend. You will find her on a country road, in the place she belongs.
     At the family's request, there will be no public visitation or services. Kay will be laid to rest privately.
     In lieu of flowers, memorials can be made to the family and will be used towards a scholarship offering at West Virginia University.  Kindly forward the contributions to David  Pullyblank, 7809 Oatka Trail, LeRoy, NY 14482.
     Your memories and condolences may be shared with Kay's family at www.falconefuneralhome.com.