Image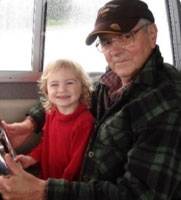 Longtime Juneau resident Vincent L. DeMuth passed away unexpectedly on the afternoon of January 23, 2023. He was born in Buffalo, New York on January 10th, 1939, and was the son of the late Arthur P. and Catherine (Marzolf) DeMuth. He attended school at Notre Dame in Batavia, New York and spent his childhood and early adult life in Darien Center, New York.
As a young man, he worked for the DeMuth-Marzolf Company in Darien Center, New York, which was a general store that also sold fuel, lumber and operated a feed and grain mill. Later, the company also became a distributer and service center for Petrolane Gas Co. and also started DeMuth Tire Sales. Vince managed the propane gas business, his brother Joe DeMuth managed the tire sales, and their mother was the company president who managed the overall company operations.
His father passed away when Vince was only 6 years old, so he grew up fishing and hunting with his cousins and many other longtime friends from his time in New York. As a young man, he dreamed of living in Alaska where the beauty and opportunities for fishing and hunting were legendary. In 1974, he made his dream a reality when he drove his family cross-country to Bellingham, Washington and took the Alaska State Ferry to Juneau, Alaska.
In Juneau, he initially worked for Petrolane Gas Co. but eventually switched to work for the State of Alaska as a maintenance mechanic at the Lemon Creek Correction Facility where he worked until his eventual retirement.
Although he enjoyed many hours in the field and had many great hunting memories, he truly loved being out on the water fishing from his boat and taking in the beauty and sounds of Alaska. He landed many big fish during his lifetime including the 1988 Golden North Salmon Derby Winner and again in 1989 when he helped a friend land the derby winner on his boat. He also loved to travel and ventured to many places throughout Europe, Asia and across the US with his sweetheart Phyllis.
He was preceded in death by his father and mother, Arthur and Catherine DeMuth and brothers Arthur W. DeMuth and Joseph L. DeMuth. He is survived by his wife Phyllis (Atkins) DeMuth, former spouse Karen (Hoy) Balduf, sister Joan Ansbrow (late James); children Chris (Becky) DeMuth, John (Andrea) DeMuth, Wendy Balduf, Renee (Ron) Mullen, Jennifer Warner, Todd (Alice) Nottingham, and Lori Nottingham (Dale Sams); grandchildren Travis (Olivia), Larissa (Jeff), Kieran, Citabria, Britney, DJ, Lindsey (Chris), Josh, Bailey, Morgan (Kyle), Rian (Jimmy) and Wesley (Scott); and many great-grandchildren.
Vince always had a smile on his face and was a great friend to many who benefitted from him being a prolific "pack rat" and a regular listener to the radio program "Problem Corner" were he acquired many great "deals" and treasures over the years. Most of all, he was a patient, loving man who was a wonderful husband, father, grandpa, mentor and role model whom we miss dearly. 
Celebration of life on Feb 19th 10:00 am at the Alabama Firehall on Rt. 63. Catholic Mass being held on February  25th and March 4th both at 7:00 PM at the Our Lady of Good Councel church  in Darien
Center