October 21, 2015 - 1:58pm
Lucy A. Greer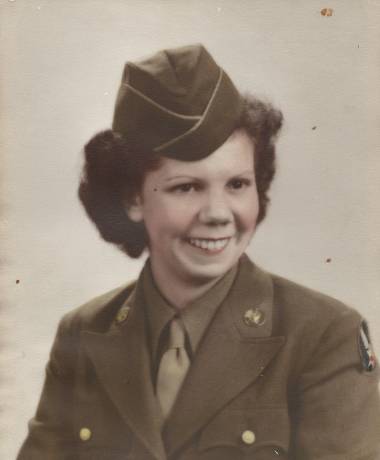 Batavia – Mrs. Lucy A. Greer, 93, of Batavia, a member of Ascension Parish, passed away Tuesday (October 20, 2015) while under the care of the New York State Veteran's Home, in Batavia.
Mrs. Greer was born December 12, 1921 in Batavia, a daughter of the late Salvatore and Vincencia (Delplato) Anastisia
Prior to enlisting in the Army in 1944, Lucy supported the American war effort while working as an aircraft riveter ("Rosie the Riveter") for the Curtis Wright Company in Buffalo.  After returning to Batavia, Lucy was employed by St. Jerome Hospital where she would retire after 30 years.  She was a lifelong member of St. Anthony Church and a volunteer for many school fund activities.
She is the wife of the late Dolphus H. Greer, who passed away September 1, 2009.
Surviving are her children, Ronald (Dee) Greer of Batavia and James (Annette) Greer of Henderson, CO; a sister, Josephine Geib of Batavia.  Three grandchildren and nieces and nephews also survive.
She is preceded in death by a son, David; brothers, Christopher, Donald, Anthony, and Victor; sisters, Anna Torcello, Mary George, and Margaret Anastasia.
There will be no prior visitation.  Friends are invited to attend Lucy's Funeral Service on Friday (October 23, 2015) at 12:00 p.m. at the Bohm-Calarco-Smith Funeral Home, 308 East Main St., Batavia. 
In lieu of flowers, memorials may be made to the New York State Veteran's Home - Activities Fund, 220 Richmond Ave., Batavia, NY 14020. 
Burial will be in St. Joseph's Cemetery, Batavia.  
Please leave a condolence, share a story, or light a candle at www.bataviafuneralhomes.com