Image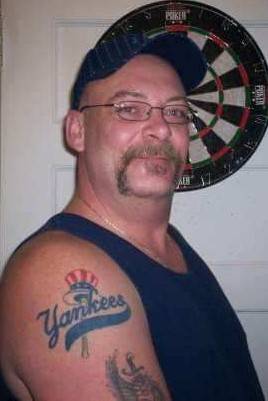 Chad G. Pratt, 55 of Oakfield, passed away unexpectedly on Saturday (August 26, 2023) at his residence.
He was born July 19, 1968 in Batavia, NY, a son of the late Norman and Eileen Burgett Pratt.
Chad was employed by Mobile Air Transport of Cheektowaga. He was a member of the Alabama Vol. Fire Department, the Sportsman's Coon Hunters Association and Thursday Night Horseshoe League. Chad was an avid Yankees, Bills, Sabres, NASCAR fan and loved fishing.  His love of those teams showed in the tattoos he proudly wore.  His infectious and gregarious laugh was his calling card and would bring smiles and joy when it was heard.  Meeting you with a beer in hand and a joke at the ready, he lit up the room.  He had a deep love for his family and his lifelong "Brothers" Pat, Jeff, and John.  He would always say "I Love You Man" when they parted ways. 
Survivors include his siblings, Norma Bauer of Texas, Patricia Dick of Canandaigua, Bettyjo (David) Gizzi of Hamburg, Sherry (Andy) Coppi of Texas, Norman (Debbie) Pratt of Darien and Kelley (Scott) Smith of Virginia. Daughter Corey (Matt) Scarborough, and the apple of his eye, his granddaughters Olivia and Ava Scarborough. Stepdaughter Elizabeth (Brette Hensely) Johnson-Walsh. Also survived by several nieces, nephews and his feline friends, Skittles and Girlie.
Family and friends are cordially invited to share thoughts, condolences and fond memories on Friday (Sept. 1st) from 5-7pm at the J. Leonard McAndrew Funeral Home, LLC, 2 Bogue Ave., Batavia, NY. Burial will be in Morganville Cemetery, Stafford, NY.
Donations in his name may be made to the Alabama Volunteer Fire Department. Expressions of sympathy may be shared with the family at: www.mcandrewfuneralhomes.net.
ARRANGEMENTS WERE ENTRUSTED TO THE J. LEONARD McANDREW FUNERAL HOME, LLC, 2 BOGUE AVE., BATAVIA, NY 14020. RONALD KONIECZNY II, DIRECTOR.