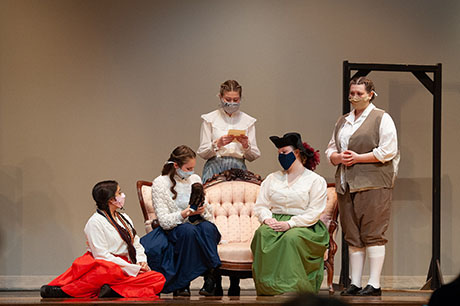 Press release:
As with all things this year, everything is different because of COVID-19. Some activities cannot currently run and those that can happen look much different than in past years.

Although many aspects of a live stage performance had to be adjusted, we were very excited to still be able to provide this opportunity for our students. In an attempt to remain as healthy and safe as possible, while also following the regulations, we were able to get our students on stage (and on screen) using masks and as much social distancing as possible while interacting with each other.

We, unfortunately, had to make decisions to have a smaller cast, have our ensemble prerecorded, and scale down much of our sets and props to less than normal. However, it allowed our actors and actresses to focus more on their emotions and character portrayal in order to bring this touching musical to both our live audience and our supporters online.

It has been amazing to work with our students this year – to see their passion and joy, to take them beyond what they thought was possible, and to have them shine on stage. It is truly wonderful to still be able to create opportunities and live performances with our talented students.

Our cast and crew put on three amazing performances. And although most of the general public could not attend the performances in person, there is still an opportunity to catch these outstanding performers.

The performance has been uploaded online and is available to watch through April 18th. You can purchase access to the performance by going to www.OACSDramaClub.weebly.com and following the link on our homepage. From there you can either purchase single viewer access for $10 or access for the entire household for $25.

All money helps to offset the cost of rentals and royalties for producing the musical. You can purchase the access at any time before April 18th, an email link will be sent to you, and once you hit play you will have 48 hours to view the entire performance before your access runs out. Please sit back and enjoy the show from the comfort of your home.
Photos by Kristin Smith. For more, click here.