March 27, 2015 - 10:14pm
Photos: 2015 Chamber of Commerce Home Show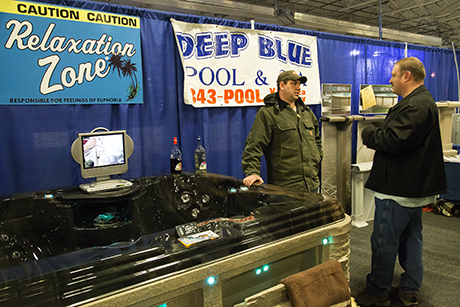 Who is ready to jump into a pool, hot tub or just get outside? The second annual Genesee County Chamber of Commerce Home Show, "Think Spring!", is being held at the Falleti Ice Rink, 22 Evans St., Batavia. The event kicked off Friday featuring more than 80 booths and 60 vendors.
The event continues from 10 a.m. to 5 p.m. Saturday and 10 a.m. to 3 p.m. Sunday. Friday night's crowd hailed more than 300 visitors, according to Kelly Bermingham, chamber director of membership and special events. The home show is anticipating another couple thousand attendees throughout the weekend.
Tickets are $3 and include a chance to win $500 at your choice of vendor at the home show. Some booths are offering their own event specials.
For a detailed map of the event click here: http://www.geneseeny.com/homeshow