September 23, 2017 - 8:02am
Alexander Trojans triumph over rival Attica 20-3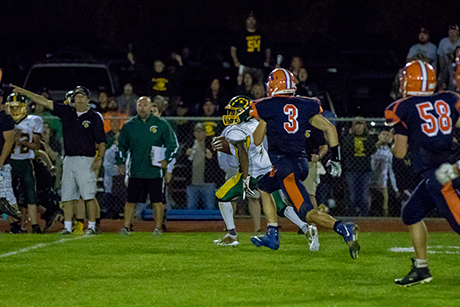 Alexander High School's football team beat Attica on Friday on a night that junior running back Chris McClinic gained 221 yards and scored three touchdowns 20-3.
After four games, McClinic has gained 814 yards on the season and scored 12 touchdowns.
Attica's only score game on a field goal in the second quarter, after that the Trojan defense locked down the home team and Alexander's offense took over.
McClinic scored on a 29-yard run in the second quarter.
In the third, the Trojans forced a three-and-out to start the half and then the offense engineered a long, clock-consuming drive that ended in a nine-yard run by McClinic.
The Trojans scored again on another long drive dominated by Alexander's offensive line and fullback Mitch Gordon until McClinic closed things out with a 47-yard TD run.
Freshman Terrez Smith gained 54 yards on three carries and Gordon gained 30 to helped the team gain a total of 343 yards on the ground.
On defense, Gordon and Jake Jasen had nine tackles each. Danny Burns had eight.
Alexander is now 4-0 on the season and Attica falls to 2-2.
For more photos to view or purchase click here: http://steveognibenephotography.zenfolio.com/p873488972