October 29, 2017 - 8:00am
BHS cheerleading squad captures Section V title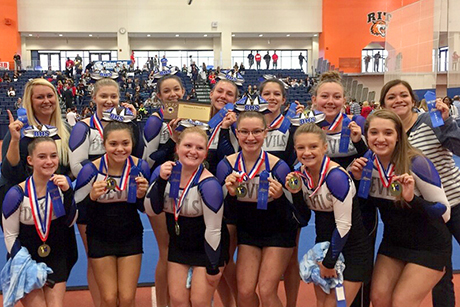 Section V Girls Championships were held yesterday Rochester Institute of Technology college. The Batavia cheerleading team won the Division 2, Small A school sectional title, which ended the nine-year drought since back in 2008.  
"We had a rough start," said Co-Coach Stacy Squire. "We had to change everything the day before homecoming when unveiling the new routine. Placed second in our first two competitions but kept improving our scores and working hard.
"These kids worked so hard this season and wanted this more than anything. Justine and I couldn't be more proud and happy for them!"
Senior Elisa Swinehart, pictured below with both coaches, was chosen for the Nancy Saxton Leadership Award, which is given to a senior on the championship team. 
Coach Squires spoke of how Elisa was chosen for this award. She is the definition of dedication to her team. Cheerleading is her passion, it shows in practice and performance times. She is first to be ready to start practice and the last to make sure the mats are rolled every day. She inspires her team to push themselves and get what her coaches ask of her done.
Pictured above, from left, in front row: Kelsey Verton, Natalie Clark, Bethany Ruffino, Felicity Anderson, Lydia Wahr, Taylor Smith​.
Back row, from left: Coach Stacy Squire, Elisa Swinehart, Morgan Olverd, Karleigh Amthor, Julie Wetsell, Kendra Cook and Coach Justine Briggs.
Not pictured: Kristen Corp.
Story and photos submitted by Stacy Squire and Sherri Buchholz Wahr​.