August 29, 2017 - 5:00pm
Boy Scout seeking community volunteers for Eagle project Friday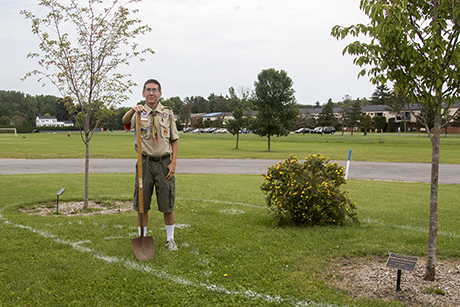 Batavia Boy Scout Troop 6006 Thomas Ognibene is posing in the bus loop behind John Kennedy Elementary School, 166 Vine St., Batavia, where he plans to expand the area pictured above to create a memorial garden as part of his Eagle project.  
Currently there are two trees planted in memory of Mike Houseknecht and the Raines, Physical Education teachers who contributed to the school. The scout is looking for community help and volunteers this Friday morning starting at 9.
The project will continue on Saturday at 9 a.m. pending the progress of the garden. To participate, please meet behind the school off Elm Street's dead end extension.  Supplies suggested to bring are pointed shovel, gloves, metal rake and safety glasses, if needed.
Any questions please contact Thomas at 585-344-4790 or email him at [email protected]. Refreshments will be provided during the day and food.