March 24, 2016 - 5:59pm
GO ART! Creative Arts Camp during Spring Break is a big hit, more planned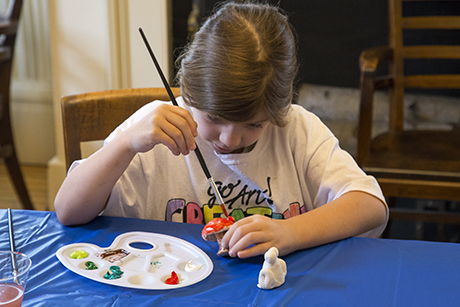 (Photos by Steve Ognibene.) (Above, 6-year-old Lilian Gary paints a clay mushroom.)
During the school Spring Break, some families go out of town and some stay local to enjoy with friends and family from out of town. Parents are still working during the day and looking for an opportunity for learning something new.
This week GO ART! offered its first Creative Arts Camp in the Seymour Place buildingin Downtown Batavia and hopes many others will follow.
The camp sold out. All this week, 28 students in grades two to six participated in many different activities like: drumming, Colombian dance, steel drums, photography class, drawing and theater.
Director Jennifer Gray said they wanted to give kids a small snippet of a little bit of everything in the creative world and include different tastes of performing arts, music, dance and visual arts as part of it. If parents are not aware coming from an arts background, this camp offers what they might not get in school and pique some future interests for the students.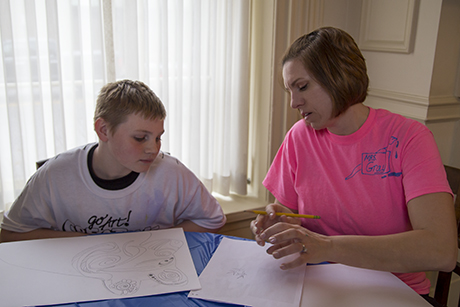 (Above, Director Jennifer Gray giving a drawing lesson to 11-year-old Hunter Kelsey on a graphic abstract.)
GO ART! also plans to offer one-day drop-in camps during the summer and they are looking to offer a younger camp for toddler, pre-K to second-grade kids, and perhaps one for middle school students.
They want to thank generous sponsors for this event: Applied Business Systems -- ABS, T-Shirts Etc., Art Ah La Carte, Design by the Hour, and Glass Roots.
For more details on this event go to: http://www.goart.org/
Also Facebook page: GO ART!
Above, 10-year-old John Riley participating in a Performance Theater segment taught by Assisant Director Gregory Hallock.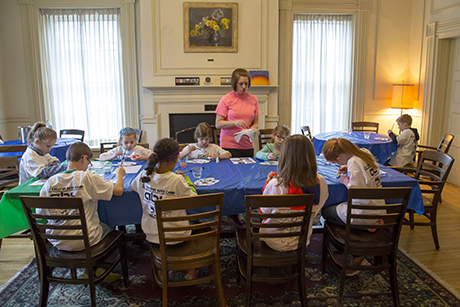 Above, Director Gray teaching painting on model clay to elementary students.