May 14, 2018 - 10:14am
Photos: Girls softball, Batavia wins Pembroke tourney
Batavia High School Girls Varsity Softball Team went undefeated for both games to win the Pembroke tournament this past Saturday at Pembroke Town Park. Batavia High School defeated Akron 10-9 in game one, then beat Perry/Mount Morris in the championship game 16-1. 
Irelyn Curry was named MVP of the tournament by pitching two complete games. Irelyn and the defense only allowed one run in the championship game.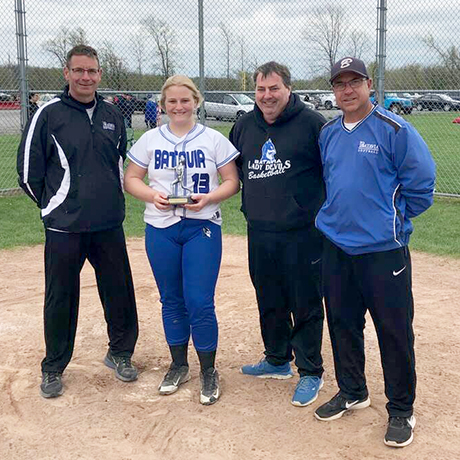 Against Akron, the Lady Devils were challenged by a deficit of six runs early on but battled back to win the game 10-9. Taylor and Ryann Stefaniak, Bri Janes, and Mackenzie Reigle each scored two runs, while Bri Janes, Alaina Bowman and Bryn Wormley all drove in two runs. Jenae Colkey doubled twice. 
In the championship game, Taylor Stefaniak scored five times, with three hits along with her sister Ryann Stefaniak who had three hits. Maiya Reinhart hit a three-run home run and 5 RBIs, and Bri Janes had three hits as Batavia collected 18 hits to win the game 16-1.
Batavia improves to 10-7 on the season and face a rematch of last year sectional finalists Pittsford Sutherland home today at Anderson Field. Game time 5 p.m.
Top two photos provided by Lori Reinhart. Bottom photos by Steve Ognibene.