March 19, 2016 - 12:21pm
Photos: Shakespeare's 'As You Like It' at Harvester 56 Theater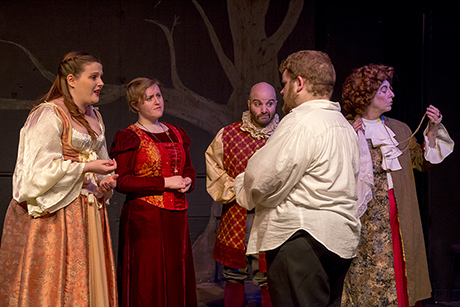 The second production of Shakespeare's "As You Like It" finishes up the last show tonight at 7:30 at Harvester 56 Theater, located at 56 Harvester Ave., Batavia. The show is directed by Michele Stamp who has directed two shows there.
It's one of Shakespeare's comedies, placed in the Forest of Arden. A mother was a duchess who had a sister whose younger sister had usurped the kingdom and banished the older sister. Her daughter remains in court because she is best friends with the usurping duchess's daughter. 
Another story line is where a father has died and his three sons are left to their estate and the oldest son is supposed to be taking care of the younger sons, but he is only taking care of the youngest so he is banished.  All of these people end up in the Forest of Arden. 
The next production at Harvester 56 will be "On Broadway VII" with five musical hits running for two weekends in April. The dates are on April 1-2, with a special dinner theater at Terry Hills Restaurant on April 3, then again at Harvester 56 on April 7-9.
Tickets for tonight's final show of "As You Like It" can be purchased at the door; $13 adults $10 students/senior citizens or online at Showtix4u, search Batavia Players. Also go to: Batavia Players for more info.
For more photos go to: Steve Ognibene Photography