December 28, 2011 - 8:36am
Dance tells the story of 'Therapy'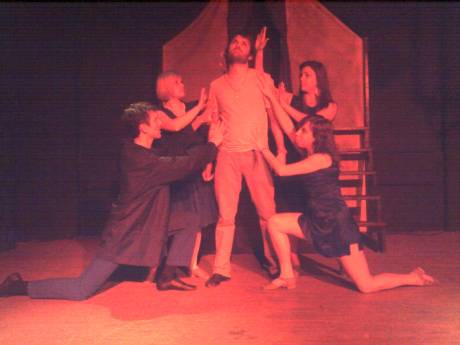 A fast-paced performance entitled "Therapy" opens tonight in the Harvester 56 Theater on Harvester Avenue, Batavia.
The performance consists of various dances set to pop and rock songs that many members of the audience may identify. 
Genesee County natives Tara Pocock and Trent Jeffords came up with the concept and choreographed the production. In addition to the two choreographers, the cast includes Amanda Crowley, Zack Durkin and Erin Dunham.
The show, which lasts approximately one hour, is composed of numerous dances and a few spoken lines that tell the stories of fictional characters who take part in a group-therapy session. 
Due to the adult themes depicted in the dances, the production is recommended for teenagers and adults. 
Each of the characters has a specific personality and unique problems, which are more fully developed in the second act. The performers make good use of the black box stage, which allows audience members to have a good view of the dancers from three sides of the stage in this intimate setting.
"Sometimes we discover that what seems like the smallest of problems actually have an enormous effect on our lives, Jeffords said. "This show is the embodiment of this concept."
"Therapy" will be performed at 7:30 p.m. on Wednesday, Thursday and Friday. The proceeds collected from audience members' suggested donation of $5 will be used to support community theater through the Batavia Players.