Image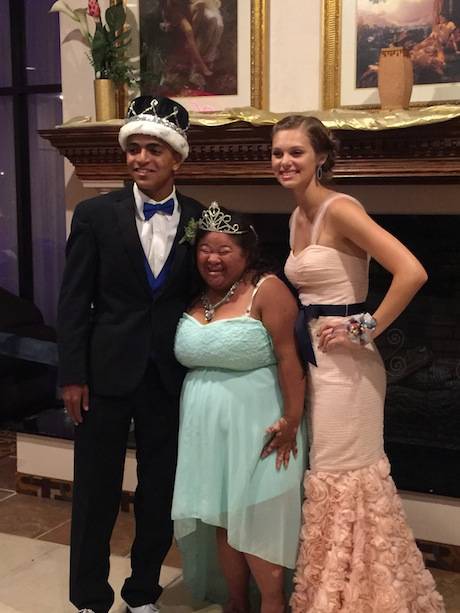 (Jarrett Laskett, Shontee Allis and Allison Della Penna. Photo taken by Laura Tenebruso.)
It was Batavia senior Allison Della Penna's plan all along to give her crown to Shontee Allis, a senior with Down Syndrome, if she was named Batavia High School's 2015 Prom Queen on Saturday night.
When Della Penna was announced as Senior Prom Queen, she immediately went up on stage and declared Allis to take her place.
"I knew it would make her so happy and it doesn't really mean anything to me," Della Penna said. "I mean it's nice that people wanted to vote for me but it's something that she is going to remember for the rest of her life."
Allis was all smiles when Della Penna, her friend, called her up on stage and put the crown on her head. She had always dreamed of being named prom queen.
"I was excited," Allis said. "It's good to be queen."
Image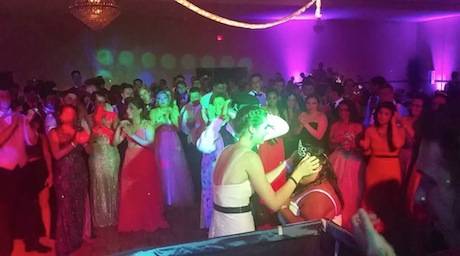 ( Allison Della Penna crowning Shontee Allis. Photo taken by Laura Tenebruso.)
Principal Scott Wilson has been to more than 40 proms and has never seen anything like it.
"It was absolutely wonderful," Wilson said. "I have never been a part of such a great group of kids and Allison just represented them so well. It was a very selfless thing to do."
Laura Tenebruso, English teacher and senior class advisor, has known Della Penna since she was in middle school and wasn't surprised when she made the selfless act because that is just the kind of person she is.
"Allison is a loving, giving and compassionate person," Tenebruso said.
After Allis was named Prom Queen, she and Prom King Jarrett Laskett danced to her favorite "Frozen" theme song, "Let It Go."
Allis told Della Penna she couldn't wait to watch "Frozen" and dance with her crown on. According to Allis's younger sister, Summer Mims-Allis, she wears the crown everywhere she goes.
Della Penna and Allis became friends on the school's senior trip last week. Della Penna really clicked with Allis's funny and friendly personality.
"She is always so happy and that is something that I really liked," Della Penna said. "She always wants to make sure everyone is happy and smiling. Everyone should have just a tiny bit of her happiness."
Nancy Brandon, Allis's mom, was amazed by how great the senior class has been to her daughter.
"The senior class has literally took Shontee underneath their arms and just made her feel so special," Brandon said. 
According to Wilson, Batavia High School has a saying "take care of BHS by taking care of others" and he feels Della Penna has really done that by honoring Allis as Prom Queen.