November 17, 2018 - 10:15am
East Pembroke photographer has work of trains and landmarks on display at Richmond library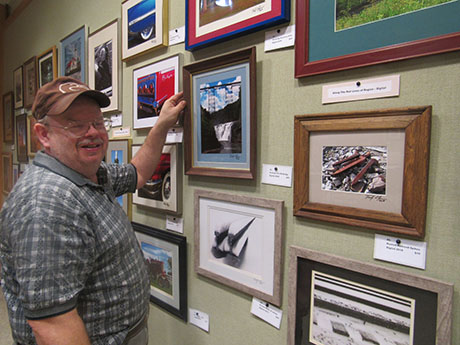 Trains and landmarks throughout the country are among the subjects photographed by Tim Dusen, of East Pembroke. His exhibit, "Cornucopia of Photography," is on display through Nov. 30 at Richmond Memorial Library.
A lake ferry. A cow. A rusted automobile.
Everything catches Tim Dusen's eye, although his favorite subjects are trains and lighthouses.
Dusen's work of more than 100 photographs, titled "Cornucopia of Photography," is on exhibit at Richmond Memorial Library through Nov. 30.
Dusen, a native of East Pembroke, has been smitten with photography since 1976, when he was 9 and his parents took him to Disney World. He had been given his first camera, a Brownie 127, with which he captured his first images – that of the monorail and train.
In 1977, his family went on a three-week trip out West and he took so many pictures his father told him to stop.
"You had to put your film in a mailer back then and send it away to be developed," Dusen said. "Dad said we wouldn't be able to afford to have them developed."
Both his parents and grandparents loved to travel, and Dusen inherited their love.
"Grandpa always said if there was a jingle in your pocket, you had gas money," Dusen said.
Pembroke was one of the few schools with a darkroom at the time, and Dusen jumped into photography courses there. After he graduated in 1986, he went to Genesee Community College, where he majored in Commercial Art and History.
He was at a Batavia baseball game when Harold Kiltau, who sat down beside him, asked him if he knew there was a Photography Club in Batavia.
He hadn't known, but in 1992, he joined. There he learned about filters and polarizing, and used his new knowledge in his photography.
Batavia Photography Club attended conventions of the Niagara Frontier Regional Camera Clubs, and there Dusen learned a lot more about taking pictures, he said.
One of Dusen's favorite works is a window light photograph of a cup and bowl said to have been used by Wild Bill Cody. Dusen took the picture at Cody's hunting cabin in North Platte, Neb. The photo won him "Best Color Digital and Image of the Year" by the Batavia Photography Club.
Dusen said his photography is mostly for pleasure, although he has sold a few pieces. All the photos in his exhibit are priced reasonably, he said.
It's safe to say, Dusen never leaves home without his camera.
Anyone interested in any of his work may e-mail him at [email protected]
Photos by Virginia Kropf.
Below, Dusen with one of his favorite works -- a window light photograph of a cup and bowl said to have been used by Wild Bill Cody.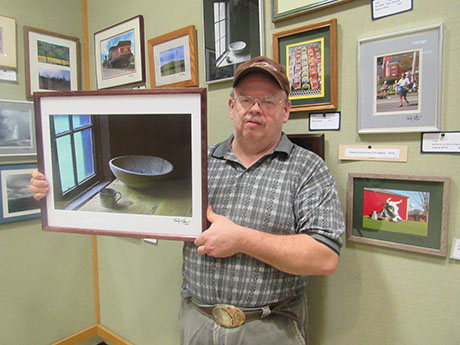 Below, Dusen tweaks a photograph of the historic Portageville bridge taken from Letchworth State Park.