September 13, 2018 - 9:05am
Greens of Le Roy celebrates birthday of first resident to turn 100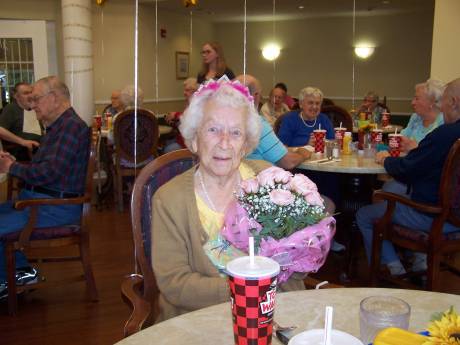 Dorothy Dilcher's 100th birthday was not only a milestone for her, but was a special day for The Greens of Le Roy.
Aug. 21 was not only Dilcher's special birthday, but it was the first time since The Greens opened in October 2000 one of its residents had reached 100.
Dilcher was honored at a party at The Greens, which also celebrated all the residents at The Greens who were 90 or older.
Dilcher was born Aug. 21, 1918 in Chili, one of nine children.
"We lived in a little house with the Genesee River on one side of us and the railroad tracks on the other side," Dilcher said.
Although Dilcher was the fourth born, and the first girl, she was not spoiled, she said.
"I had to work," she said. "I was my mother's helper. I was the dishwasher and helped take care of my brothers."
She recalls one day she was going to take her little brother out in his wicker carriage.
"I tried to get him down the steps, and it went bumpety, bumpety, but it didn't tip over," she said.
With such a large family, Dilcher said they didn't have a lot of fancy foods.
"We had a lot of 'plain Jane' foods, that had to be stretched to feed all of us," she said.
Dilcher graduated from Byron-Bergen High School.
At a local square dance, one of her brothers introduced her to his friend Frederick Dilcher, whom she would later marry.
The couple had three children, Roger, Charles and Judith.
Her major goal in life was to be a good wife and mother.
"Helping my mother when I was growing up helped me to be a good housewife and mother," Dilcher said.
It was most likely the sewing skills she learned from her mother which helped her get a job sewing blood pressure arm bands at Taylor Instrument in Rochester.
She taught herself to quilt, and later on, put her sewing skills to good use as a member of the Senior Quilters at the Office for the Aging in Batavia.
"That was a fun time," Dilcher said.
Frederick died in 2005. Dilcher moved to The Greens in 2015, where she continues to be active. She likes to listen to music and watches a little TV. One of her granddaughters works at The Greens, which Dilcher said is "nice."
"I love to walk," she said. "I walk and walk around the circle outside when the weather is good," she said. "Sometimes I go out several times a day."
The Greens Director Kim Pasquale called Dilcher "remarkable."
"She's an amazing woman," Pasquale said. "She loves to walk and rolls up her sleeves to get more sun. When we ask her how she is, she always says, 'I'm fit as a fiddle.' "
"I was always a healthy old duck," Dilcher said.
Photos by Virginia Kropf.