July 12, 2018 - 9:46am
Salvation Army Christmas in July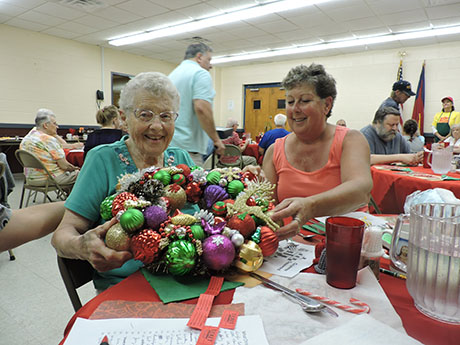 There was no sign of snow, but that didn't stop The Salvation Army from celebrating "Christmas in July" during its senior luncheon on Tuesday.
The Salvation Army has been putting on the luncheon weekly for at least 20 years, said Captain Rachel Moore, who leads the Army with her husband, Lt. Brad Moore.
Shirley Cassatt, of Batavia, has been coming to The Salvation Army luncheons for 15 years.
"This is also my church," she said.
Tuesday's lunch was extra special because of the Christmas theme, which was organized by Sharon Breton.
The Salvation Army used the theme as a way to encourage donations to their food pantry. Every senior who brought in a nonperishable food item received a ticket for a drawing for dozens of Christmas decorations.
Cassatt was thrilled when her ticket was pulled and she chose an animated Santa, which she said her grandchild would love.
The Women's Auxiliary, whose members cook the meals each week, kept with the theme by serving Christmas dinner of baked chicken, mashed potatoes, stuffing, carrots, and assorted pies and cakes.
Mary Shaughnessy got into the act by knitting red, silver and green Christmas bells for each guest.
As guests waited to be served, Captain Moore played Christmas songs, urging seniors to listen carefully, because they would need to know the titles for a game later on. The game entailed identifying the songs from cartoon drawings. The winning tables got to choose prizes from the table of Christmas items.
This is the first time The Salvation Army has celebrated Christmas in July, but there was no doubt from the smiles on seniors' faces, they really are like kids at Christmas.
Top photo: Shirley Winter, left, seated with her daughter Diane, shows the wreath she won at the senior lunch Tuesday at The Salvation Army.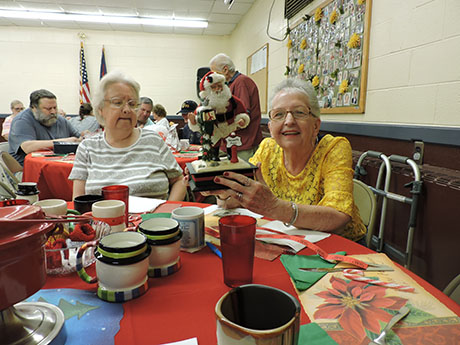 Shirley Cassatt, right, holds an animated Santa she won during The Salvation Army's "Christmas in July" luncheon Tuesday. Looking on at left is Mary Olix.
Captain Rachel Moore, seated at keyboard, plays Christmas songs before the senior lunch Tuesday at The Salvation Army in Batavia. The theme for the lunch was "Christmas in July." Photos by Virginia Kropf.