June 8, 2011 - 6:42am
Public begs for city schools' Suzuki Strings program to be saved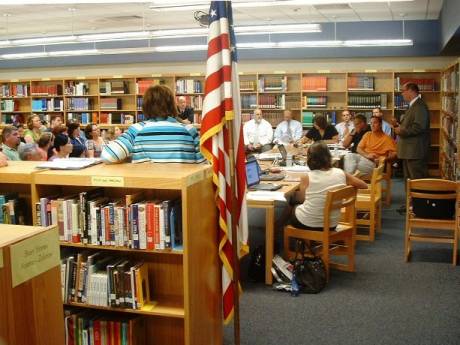 Apparently, there are some strings attached to the retirement of Cindy Baldwin from Batavia City Schools.
Cello and violin strings, specifically.
A 38-year veteran of the Batavia music program, Baldwin is finally calling it quits. And she's taking her popular and highly successful Suzuki Strings program with her. The program is based on the Suzuki method of teaching, which puts the onus on the parent to push their child to learn to play an instrument.
Baldwin is a Suzuki member teacher. But the board of education is proposing to replace her, her method, and her high level of training on string instruments, with a trio of vocal teachers. They will attempt to learn the basics of string instruments this summer, so as to teach them to students next school year.
"We are planning on having elementary strings continue," explained John Kennedy Principal Paul Kesler. "In order to do that, there will no longer be individual lessons for students. It will be group sizes of two to three. Students will have the opportunity to begin strings at third grade." (Currently, students as young as kindergarten can begin the strings training.)
Parents who have seen their young children excel in music are shocked, and angry.
"I don't see how you possibly can maintain the strings program, by having other people pick up the slack," said Terry Kolb, who has at least two grandchildren in the district. "You're never going to replace Cindy Baldwin."
Kolb's 8-year-old granddaughter, Kennedy Kolb, also spoke to the board. She is in second grade.
"I just want to say: cello is the world to me," Kennedy said. "This is my life. And you're taking it all away."
Mother Cheri Kolb said she'd written a letter to the board and Superintendent Margaret Puzio, with no response (Kolb forwarded the letter to The Batavian on Monday).
"The Batavia City School District, at every opportunity, publicly sings the praises of the enrichment programs they offer," she said. "And quietly behind the scenes, every enrichment program is being whittled away, bit by bit."
District Business Manager Scott Rozanski confirmed to WBTA News that the cuts will not change now, since they are the same cuts that would be included in a contingency budget. The only difference between the two remaining options is that the proposed budget would allow citizens to use district facilities free of penalty. Under a contingency budget, any citizen use of district facilities that constituted a cost would have to be charged for.
The contingency budget would be adopted, if the proposed budget is rejected again by voters on June 21.
At the close of the public hearing, Board President Andrew Pedro made the point that this discussion over the music program wouldn't even be happening if the first budget had been approved.
"We had something like 960 people vote on the first budget," Pedro said. "We have 2,500 kids in our district – if every parent showed up and voted yes, we wouldn't be in this situation.
"We have kids in this district, too, so I hear what you're saying. But it's up to the parents to get out and vote."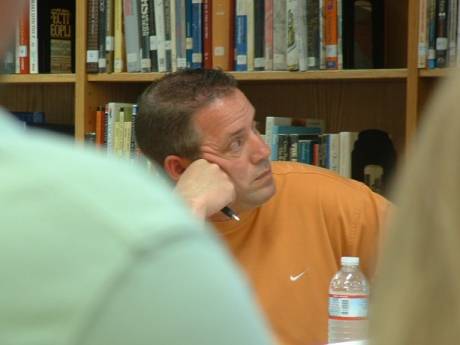 Photos by Geoff Redick of WBTA.
It is a shame, Lori. There are a lot of tough decisions that have to be made, but it shouldn't be at the program level. It's time that the county comes together and looks at the future of education. When I lived in NJ, I attended school in the Freehold Regional School District. It consisted of the towns of Freehold Boro, Freehold Township, Manalapan Township, Howell Township, Morlboro Township, Jackson Township and Colts Neck Township. They had one central district office and everything from logistics to admin was done there. The building principals worked on their budget needs and filtered up, much like how it works now. Genesee County has roughly 58000 residents, and BCSD has 2500 kids. My high school alone had more kids than this entire district. If you include the three elementary schools and the middle school in Freehold Township alone, we had what is equivilent to the size of all of the school districts in Genesee county. Yet we were still a part of a larger district. Things like capacity and logistic planning need to be addressed now. Can we combined high schools? Can Oakfield HS merge with Batavia? Elba and B/B? Do we need three neighborhood elementary schools anymore in Batavia, or should we drop to 2? These are tough questions, but it's time to not only ask them, but act upon them. What I do not think we should accept is the reduction of programs for our kids because the state has created a flawed system. I will not take things away from our kids because we have too many district offices. Batavia is the central hub for Genesee and also have the largest infrastructure. It is not only logical for us to merge, but it's quickly becoming essential.