January 13, 2013 - 3:27pm
Alexander, Bethany and Darien respond to barn fire in Attica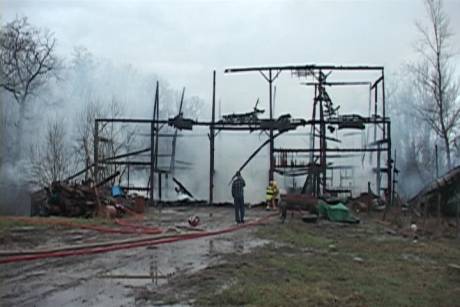 A barn fire in the Village of Attica at 69 High St. has closed down Route 98 between Dunbar Road and Route 354. Alexander, Bethany and Darien fire departments are responding.
UPDATE 3:30 p.m.: Town of Batavia also responding.
UPDATE 7:10 p.m.: According to the property owner Gene Reding, the barn was fully engulfed when he arrived home. The two horses that are normally housed in the barn were out in the field at the time and not injured. There was some equipment and hay for bedding inside. He says he has owned the property since 1975 and the barn was built in 1919.
Attica Fire Chief Bob Willard says the wood frame barn went up in flames in five minutes. It looks like the fire started in the basement and it could have been an electrical problem that caused it. It is a total loss.
Seven companies were called to the two-alarm blaze and no one was injured.