March 6, 2014 - 2:34pm
Chickens found in ditch on Transit Road in Stafford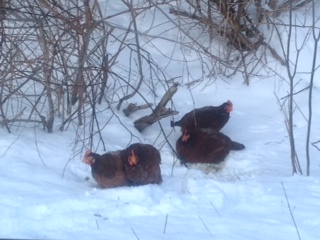 The temperature in Stafford early Tuesday morning was about 4 degrees.
Crista Boldt was on her way to work when she spotted four red birds in a ditch off Transit Road near East Bethany Le Roy Road.
"I thought they were pheasants," Boldt says.
When Boldt returned an hour later to see if they were still there, she found four domestic Red Star chickens huddled together and not moving. Boldt could tell they were suffering from hypothermia. She immediately placed the chickens in her van and transported them to her barn.
Boldt owns a horse farm in Stafford and she has eight horses. One of her horses is currently being boarded elsewhere for training. The one empty stall in her barn is now home to four lucky Red Star chickens.
"I was very upset when I spotted them," Boldt said. "I had to go back and get them, it just wasn't fair. They were left out in extreme temperatures and with no survival skills since they are domestic."
This morning Boldt noticed one the chickens has developed labored breathing and it might have pneumonia.
Dr. Catherine Homrig, a veterinarian at Pumpkin Hill Veterinarian Clinic in Byron says, "These domestic chickens are used for laying eggs and are usually found living in a coop. To ask them to fend for themselves in subzero weather in deep snow on the side of the road is beyond their ability."
Homrig says sometimes pet owners find themselves in financial trouble, having to move, or unable to care for their animal any longer.
"There are lots of situations," she says. "There are better ways and people need to be more compassionate about their animals."
The Genesee County Animal Shelter on West Main Street in Batavia does not accept chickens since they are considered a farm animal. 
According to Ann Marie Bradley, an Animal Control Officer with Genesee County, there are other options.
Abandoning your farm animal or pet along side a road is a misdemeanor charge under the the Ag and Markets law. Animal owners who are found guilty of dumping their pets or farm animals can face up to a year in jail and or a $1,000 fine or both.
Bradley says, people with farm animals can re-home the animal, process them for meat, euthanize the animal or take them to Lollypop Farm, a Humane Society in the Rochester area which is equipped to take in farm animal such as geese, ducks, chickens and horses.
Crista Boldt says her almost 7-year-old son Alex has become quite attached to the four chickens in her horse barn over the last few days.
"He already has names for each of them, Carla, from the 'Tractor Mac' book series, Chloe, Cluck and Claira."
Boldt will keep the rescued chickens at her horse farm until April 1.
After that a friend in the Pavilion area who is set up to take care of chickens, will be welcoming the four Red Stars to "Cluckingham Palace" where they will be cared for very well each day.
"We are always willing to give people advice by giving them information on other agencies that might be able to help," Bradley said.
Anyone who might need help or advice on what to do with an unwanted pet or farm animal can call the Genesee County Animal Shelter at 585-343-6410.
(Above picture provided by Crista Boldt.)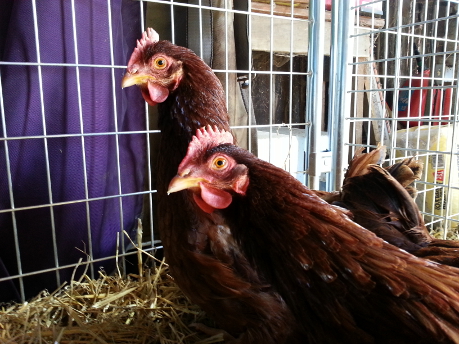 March 7, 2014 - 5:02pm
#1
May God bless you!...and I hope the little one gets better.
March 8, 2014 - 10:18am
#2
I was in that exact location at 8 a.m. this morning and there were more chickens on the side of Transit Rd, these were closer to Rte 63