January 20, 2013 - 6:58am
Working house fire on Bloomingdale Road in Alabama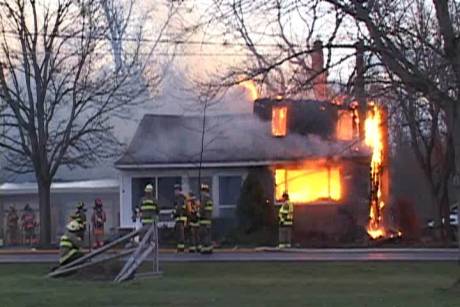 A working house fire has been reported on Bloomingdale Road near Ackerson Road.
Flames showing in second story. Second alarm.
All people accounted for in the house.
Alabama Fire Department responding.
On my way to the scene.
UPDATE 9:15 a.m.: Bill Schutt, assistant fire chief for the Town of Alabama Fire Department, says when crews arrived on scene the homeowner was on the roof in his bare feet trying to push the chimney away from the house.  
The homeowner was later transported to an area hospital with burns to his legs. According to the homeowner's statements, the fire started in the chimney.
The fire then quickly spread to the second story and got out of control with help from the high winds. Fire crews also ran out of water at the scene several times. Tankers hauled in water from ponds that were quite a distance from the fire.
About 12 companies helped fight the fire. Several were called in from Erie and Orleans counties due to the amount of local departments already out on calls for trees and wires down.
The home is a total loss.Firefighters will be on scene for some time to get it under control.
UPDATE 10:41 a.m.: Red Cross has been called in to help the two adults that live in the home.
Mercy medic called non-emergency to the scene for a firefighter with a minor injury.
UPDATE 3:07 p.m. (by Howard): Photo below submitted by a reader.