December 2, 2012 - 2:17pm
House in flames at 5 Myrtle St., Le Roy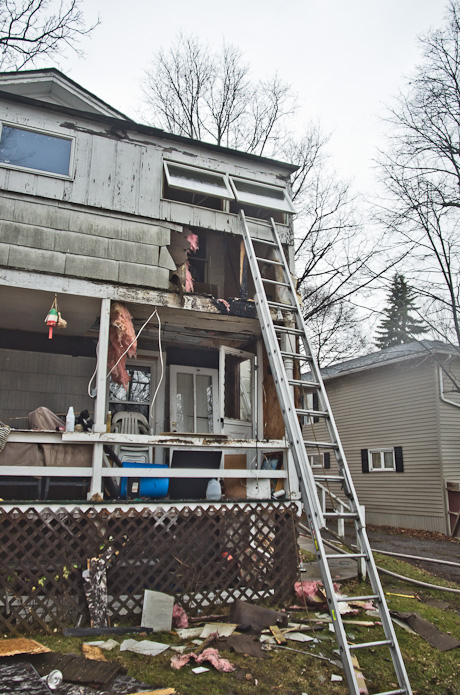 A fully involved house fire is reported at 5 Myrtle St. in Le Roy. Heavy smoke and flames showing. There are still people inside the house -- entrapment. Le Roy fire is responding along with mutual aid from Caledonia.
UPDATE 2:19 p.m.: It is believed everyone is out of the house. Bergen and Pavilion are also responding. The address is between Clay and Bank streets. Le Roy medics are on scene.
UPDATE 2:25 p.m.: Town of Batavia's Fast Team is called in and National Grid is notified about the fire.
UPDATE 2:26: "It looks like they've got it knocked down."
UPDATE 2:28 p.m.: They are going to bring in fans to clear the smoke. National Grid has no ETA.
UPDATE 2:31 p.m.: Stafford is standing by in Stafford's quarters, in case needed for any other Le Roy incident. Firefighters on Myrtle Street are taking out their tools for overhaul.
UPDATE 2:34 p.m.: "It looks pretty clear on the second floor."
UPDATE 2:37 p.m.: They are asking the Town of Batavia to go back in service. Fire is out. Doing overhaul.
UPDATE 2:43 p.m.: Caledonia is released from the scene.
UPDATE (by Howard): At the time I left the scene, about 3 p.m., the cause of the fire was under investigation. Chief Tom Woods said when he arrived on scene, there were flames showing in the back of the structure and two people were partially out of a window. It's a little unclear, but apparently they had tried to put the fire out and thought the fire was out. Investigators had not yet completed interviews with them. Woods told the people to get out of the building and they did. Crews were quick the scene and interior firefighters made entry and knocked the fire down before it could do serious damage. A neighbor called the fire in, not the residents. Woods said that if the fire had been going five more minutes before fire crews arrived the whole structure would have been lost and it would have been a difficult fire to fight because of how close together units are on Myrtle.
December 2, 2012 - 5:53pm
#1