October 11, 2017 - 9:16pm
John Mungillo scores 1,000th training win at Batavia Downs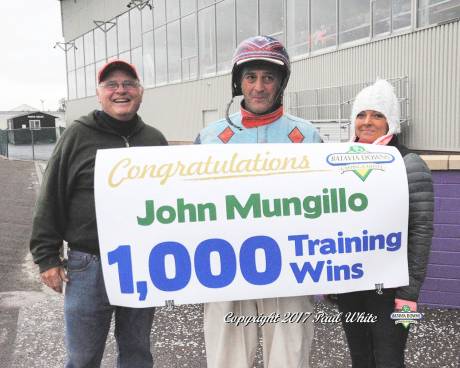 Photo, from left: Larry Willer, John Mungillo and Jennifer Papiernik
By Tim Bojarski, for Batavia Downs
Western New York veteran trainer John Mungillo reached a major milestone at Batavia Downs on Wednesday afternoon (Oct. 11) and he did it in a very convincing manner. Mungillo sent out his 3-year-old pacing filly Roll With Faith that he co-owns with Lawrence Willer and Finish Line Investors and watched her go wire to wire at 1-9 over a very sloppy race track in 1:57.3 to notch the 1,000th training victory of his career.
The grand achievement didn't happen overnight, it was a culmination of a lifetime's labor.
Mungillo started working as a groom for Pete Mondi at Batavia Downs in 1981 and eventually became second trainer for Don Rothfuss where he earned his driver's license and started teaming regularly. When Mungillo went on his own in 1986 his objective was to have horses from his barn win, regardless of who did the driving and didn't let ego stand in the way of success.
Although he did drive regularly from 1987-1989, he focused more on training his stock from that point on and really started accumulating wins as his stable grew.
Mungillo's career best training year was in 2013 when he scored 155 wins with a .309 UTR and earnings of $683,812 as a result. For his entire training career Mungillo has 6,099 starts with 1,000 wins 860 seconds and 791 thirds with $4,466,409 in purses. That's 43 percent in the money lifetime and that's not too shabby.
Currently at the Downs Mungillo is racing 10 horses regularly and ranks eighth among all trainers with 13 wins, eight seconds and 14 thirds off 84 starts and has banked $66,782 in purses so far. For the entire year he has 32 wins and $202,945 in purses.