June 13, 2014 - 7:35pm
Opening ceremonies for Cost of Freedom Memorial Wall were 'awesome'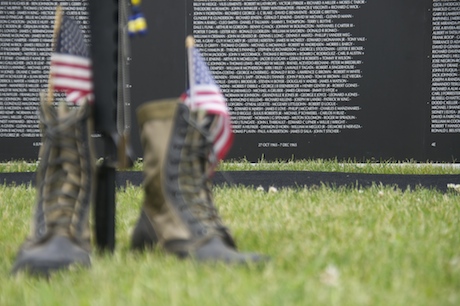 Monetary value cannot be placed on the cost of freedom. It has been, and continues to be, paid with the blood, sweat and tears of a nation's people. 
Opening ceremonies for the Cost of Freedom Memorial Wall were held Thursday at Pembroke Town Park. Kicking off the day's events was Bobbie Metcalf's stirring rendition of the National Anthem. Then retired Army Brigadier General Frank Cipolla spoke briefly of the number of men and women who have lost their lives during times of war. He further spoke of the strength of Americans.
While the Vietnam Memorial Traveling Wall had made an appearance in Western New York in 2010, the Cost of Freedom Memorial Wall is making its first debut in the area. This monument commemorates every veteran that has fought and died in battle from the Revolutionary War up to and including the war in Afghanistan. 
"This wall commemorates every veteran (who) has fought and died for our freedom," said Timothy Burch, a member of the Oakfield-Alabama American Legion Post #626. "Including firefighters, policemen and first responders of 9/11."
The memorial spans the length of almost two football fields, resembling the Wall in Washington, D.C.. A permanent monument, donated by Galley Monuments, Batavia, has been set at the site as tribute to fallen soldiers. In addition, the American Legion opened a contest to local schools and asked the question, "What does the cost of freedom mean to you?". Of those who participated, Abby Shaw, of Pembroke, won the contest and her poem titled "The Cost of Freedom" is inscribed on one side of the stone. 
"I'm very excited to be a part of this event," Burch said. "I joined the Legion almost a year ago and I fell into this face-first. I wanted to be involved. I have an emotional attachment to those who have volunteered to serve during wartime. Both my grandfathers served, as well as my father."
"So many people from the community are involved in this," said Joe Joyce, vice commander of Post 626. "It's amazing."
According to Joyce, bringing the memorial to the area was almost two years in the making. Donations and fundraisers were held to generate enough capital to make it happen.
"Not one person turned me down when we (the Legion) asked for a donation," Joyce said. "The response from the community was outstanding."
"This display will educate people to really show what the cost of freedom is," Burch said, "and shows how many people sacrificed their lives so that we remain a free country.
"My uncle's name is on this wall. He died in Korea," Burch continued. "My service was insignificant by way of comparison to those who gave the ultimate sacrifice. They should be honored every day."
According to the American Veterans Traveling Tribute -- the organization whose mission is to bring the Cost of Freedom Tribute and The Traveling Wall to as many communities as possible -- this event is the first to hold separate days to honor each service area.
"We are setting a precedence for the wall. We are making history with this event," Burch said.
Alan Myers, a World War II veteran, said, "It's awesome, isn't that what the young people say, really emotional, to be involved in this event. It makes people aware of just what the military goes through."
Myers, who served three years with the 13th Defense Atlantic Fleet, led the motorcade Wednesday with his quarter-ton World War II jeep. According to Myers, the jeep he was driving came off the line the day Pearl Harbor was attacked and was also used during the war. 
In addition to the memorial, displays throughout the grounds include a tribute to the attack on the Twin Towers, as well as, information on each branch of the military and police and firefighters. The four-day event itself is free, however, donations will be accepted to help defray the cost of bringing the wall to the area.
"When you listen to our National Anthem, I mean really listen," Burch said. "It was written during the Revolutionary War during after a long battle. Francis Scott Key was simply writing about what he was seeing at that time (the bombarding of the American forces at Fort McHenry during the Battle of Baltimore on the night of Sept. 13–14, 1814). That's war. That's the cost of freedom."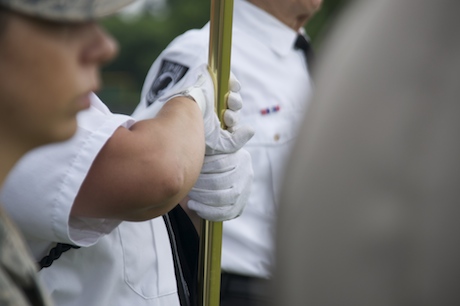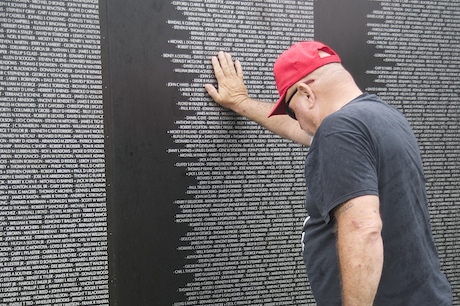 http://www.zenfolio.com/zf/tools/slideshow.aspx?id=18989488
June 14, 2014 - 9:00pm
#2
...An interesting side-note, "The Star Spangled Banner" was one of several popular patriotic songs. It's based on Francis Scott Key's poem "In Defense of Fort M'Henry." Key's poetry was put to a popular 18th Century British tune (composed by John Stafford Smith, lyrics written by Ralph Tomlinson), "To Anacreon in Heaven." Anacreon was a Greek poet, 570 - 488 BC, who is remembered for his drinking songs. Smith's tune was written for a British gentleman's club, The Anacreonic Society, comprised mainly of amateur musicians sympathetic to the Greek poet's inspiration: wine, women and song. Tomlinson's lyrics instructed "...intwine The Myrtle of Venus with Bacchus's Vine." The music which is admittedly complex and challenging for most vocalists was written intentionally so to allow the Anacreonic Society's baritone to show off his virtuosity.
Francis Scott Key was allegedly tone-deaf, and it is supposed that he penned his lyrics to match the meter of the British tune. It is also known that Key wrote another song based on the same melody. In fact several songs ("Adams and Liberty" and "Jefferson and Liberty" are two) from the era made use of the John Stafford Smith music. The practice is known as Cantus firmus. Borrowing a melody was common particularly in 13th and 14th Century sacred songs.
Perhaps Led Zeppelin might use this defense in their most recent charge of infringing on another artist's work ("Stairway to Heaven).
"The Star Spangled Banner" wasn't designated the official national anthem until 1916 when Woodrow Wilson by executive order designated it so. An act of Congress in 1931 confirmed Wilson's order. For most of the 19th Century, "Hail Columbia" was in practice the national anthem. In 1889 the U. S. Navy adopted "The Star Spangled Banner" as official anthem. "My Country Tis of Thee" had also served as a popular unofficial anthem.