May 17, 2017 - 1:05pm
Car vs. motorcycle accident reported on Route 33 at Horseshoe Lake Road, Stafford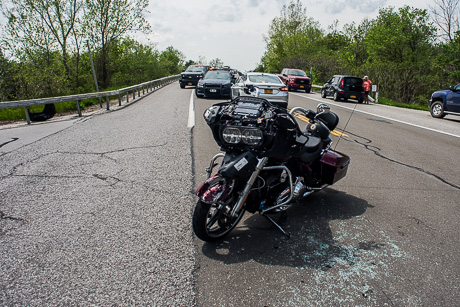 Two injuries are reported in a car vs. motorcycle accident on Route 33 at Horseshoe Lake Road, Stafford.
Stafford Fire and two Mercy EMS ambulances are dispatched.
UPDATE(S)(By Billie) 1:12 p.m.: Traffic control requested by Stafford command to Route 33 and Prole Road.
UPDATE 1:13 p.m.: Mercy Flight #5 is called to the scene and a landing zone is being established.
UPDATE 1:26 p.m.: Mercy Flight #5 has landed. The passenger and driver of the motorcycle suffered non-life-threatening injuries. The driver of a Kia Soul appears to be uninjured. According to a witness at the scene, the Kia stopped at the intersection, started to move, stopped again, then pulled directly in front of the motorcycle, which T-boned the car. The witness said "I couldn't believe it." The motorcycle left a long skid mark on the roadway prior to the crash.
UPDATE 1:32 p.m.: Traffic control was moved to Route 33 and Seven Springs Road. The damaged motorcycle is stuck in the roadway and won't roll so a tow truck has been called to remove it.