July 20, 2014 - 9:07am
After a lifetime of success with Le Roy football, Andrew Paladino says its time to retire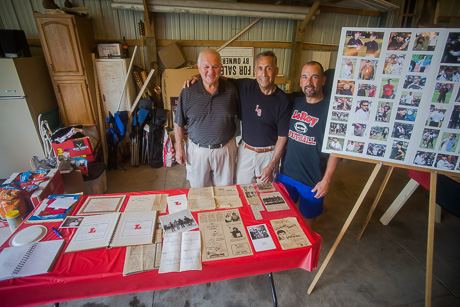 After 30 years of coaching Le Roy High School football, Andrew Paladino is retiring at the end of the 2014 season.
Paladino was defensive coordinator under Head Coach Brian Moran for 25 years. This season will also be Moran's last, and he and Moran always said they would retire together.
"Also, it's time to go," Paladino said during a party in his honor at the shop of Bill Fox. "We've got three former players on staff now. We're leaving them in good hands. Brian Herdlein is a very capable coach. He'll do fine."
Paladino's Le Roy football career started as a player with junior varsity in 1970. In his junior year, as the only junior on the team, he was the starting center and made the All County Team. The following year he slimmed down and started at full back and line backer and was named to the All Rochester Team, the All State First Team, and was named a Prep All American.
Rather than go to college, Paladino decided to get married, take a job and stay in Le Roy.
His coaching career started a couple of years later when he became a youth football coach (as a kid he couldn't play youth football, he said, because he was too fat).
During the Moran/Paladino years, the Oatkan Knights won a state championship (1995) and more than a dozen sectional titles. 
At the party Saturday was Paladino's high school coach, Don Santini, who joined Paladino for a cigar. Paladino said, "This is the man who started it all right here."
Photo: Santini, Paladino and Ron Plummer.