July 13, 2012 - 7:24pm
Animal health and safety are first concern when dogs are left alone in hot cars
Some owners get angry when pulled out of a store because somebody complained about their dog being left in a hot car.
"Most do not even recognize it as abuse at all," said Animal Control Officer Agie Jaroszewski. "They get mad because we interrupted their shopping day. They say we don't know what we're talking about. Their dog is OK."
When it's 85 degrees out, the temperature inside a car can reach 102 degrees in 10 minutes and within 30 minutes it can exceed 120 degrees.
A dog can suffer brain damage or die in short order when temperatures exceed 107 degrees.
Leaving a dog in the car on a hot or very cold day violates Article 26, Section 353d of the NYS Agriculture and Markets Law.
A person shall not confine a companion animal in a motor vehicle in extreme heat or cold without proper ventilation or other protection from such extreme temperatures where such confinement places the companion animal in imminent danger of death or serious physical injury due to exposure to such extreme heat or cold.
Fines range from $50 to $100 for a first offense, from $100 to $250 for a second.
Jaroszewski said citations are generally only issued where an order cannot be located and the dog must be removed from the car and taken to an animal hospital, or when the dog is in obvious distress and must be removed from the car.
Since Jaroszewski is not a deputy, she relies on sworn officers to open cars and issue citations as necessary.
The first order of business is the health and safety of the animal, Jaroszewski said. Whether she responds first or a deputy, the first responder tries to locate the owner of the car. Typically, the owner is paged in the store they have most likely entered.
If the owner is found and the dog is not in distress, they are given a stern lecture and the incident is documents in the law enforcement computer system. The temperature at the time of the incident is also recorded.
Jaroszewski is looking into getting a laser temperature gun (example). That would enable her to point the laser at a surface in the car and get a precise reading of the temperature inside.
Not only would it give her evidence to show a dog owner of just how hot it is in the car, but with a second witness, any citation would have a better chance of holding up in court.
Today, The Batavian drove out to two calls involving dogs left in a car at a time when the sun was beating down and the temperature was 92 degrees.
Our initial headline on the first case was "Dog sweltering in gray TrailBlazer in Walmart parking lot."
It turns out, and what the initial caller may not have realized, the owners left their SUV running with the air conditioner on. The dog was fine, but Deputy Tim Westcott still tracked down the owners inside Walmart because it's a violation of NYS law to leave an unattended vehicle running.
The owners are visiting from Florida and vowed not to leave their dog in their car again and not to leave the vehicle running while unattended. No citation was issued.
In the second case, Wescott located the owners shopping in Michael's. The soon-to-be-married couple left the back windows down on their sedan, and the front windows cracked. During the 10 minutes they told Wescott they were in Michael's, the dog did her job, protecting her master's property by barking at every passerby.
But barking dogs, Westcott noted, dissipate energy faster and that makes them more susceptible to the heat.
In a day and age when more people are aware of the dangers to animals left in cars and everyone has a mobile phone, emergency dispatchers get more calls for dogs left in cars, Wescott noted.
And he wasn't complaining.
The Sheriff's Office takes such calls seriously and if an owner can't be located, deputies will use their car-lock kit to open doors and remove animals.
When that happens, Wescott said he leaves his business card in the car with a note about where the dog was taken.
Typically in such situations a citation is issued.
The more frequent, quicker calls these days probably mean there is intervention by a deputy or animal control officer before a dog is overheated to the point of injury or death.
While dog owners often feel put out by a member of law enforcement paging them in a store, and often claim it was just a matter of minutes that the dog was left alone, typically when paged, as with the couple in Michael's today, they're still in the middle of shopping when located.
With the engaged couple today, Wescott waited for Jaroszewski to arrive, which took about five minutes.
When she did, she lectured the couple on the danger they put their pet in, gave them an informational card that explains the danger. While the couple got back into the car (it took a little time because one of them was in a wheelchair due to a leg injury), she took the dog over to a shaded area (top photo) and waited.
The dog was panting heavily, but otherwise seemed in good health.
And a dog who can go home in good health is the whole goal of deputies or animal control officers who respond to the calls from concerned citizens.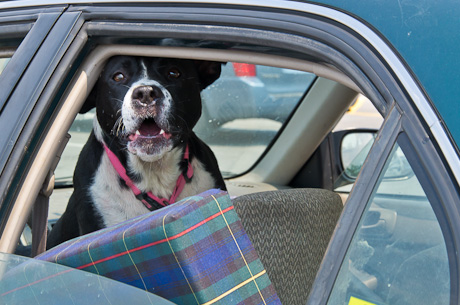 July 13, 2012 - 9:46pm
#1
I wonder if either Jaroszewski or Wescott have responded to a scene where the dog is already dead and the owners were found and said, "yeah... uh... he was dead when we put him in there... cuz we were gonna bury him after we went for groceries...". I doubt it because the dog would be down, not up and barking where he could be seen. I moved here from the South and I never heard of a dog dying in a car... because Southerners have sense and leave their dogs in the pickup bed while parked in the shade or home.
July 13, 2012 - 10:05pm
#2