March 28, 2014 - 11:12am
Batavia PD's emergency response team trains in house on West Main Street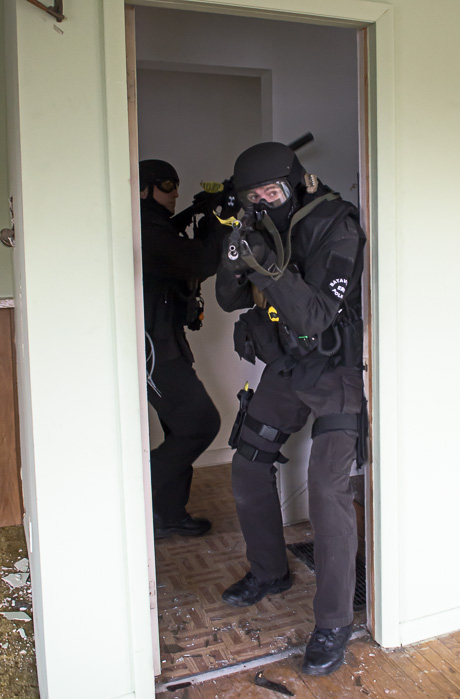 Batavia PD's Emergency Response Team made use of a house on West Main Street headed for the wrecking ball for training this morning.
Assistant Chief of Police Rob Yaeger said the team practiced warrant execution, a barricade gunman scenario and hostage situations.
Even though houses may look the same on the outside, they're often different on the inside, so when a real former residence becomes available, Yaeger said, the department jumps on the opportunity to use it for training. Such buildings only become available once or twice a year.
"It's very useful," Yaeger said. "Usually we'll try at the fire training center or we'll try at other buildings, but nothing beats having the real deal, having an actual house that was used as a regular residence."
The house was made available for training -- first for the Fire Department -- by the owners of Castilone Chrysler, Steve Castilone and Greg Strauss. The dealership is expanding at its present location -- rather than moving out of the city -- and the houses at 310 and 312 W. Main St. are slated for demolition starting Tuesday.
March 29, 2014 - 1:36am
#12
For Matt (#3) and Scott (#4).
The safety of Law Enforcement Officers and our men and women servicing in the United States Armed Forces in which both put their life on the line to serve and protect us all, is not a matter to take likely.
Too send our Soldiers or LEOs into an hostile scenario without any training is asking for trouble. I would suppose you two would rather see our Soldiers go to battle without training.
Emergency Service Teams (aka SWAT) require constant training. Look at today's military problems with gangs entering our military not to serve or protect our country but, to learn how to combat our local LEOs during SWAT operations. The threats that our LEOs face is evolving every year. That is why tactics and strategy is also evolving.
Training is essential for our LEOs to learn the tactics and strategies of the individuals who do not care about your safety or mine nor those who serve and protect us. As for the military they have their own training centers. For the Batavia PD to have an opportunity to train with an actual residential home in their backyard helps improve their abilities to combat an hostile threat in the community and cost effective by keeping local and in house.
Training is important in our every day life. We educate our minds by going to school, we improve our fitness through sports or exercise and we are trained in how to perform our jobs.