October 17, 2013 - 10:36am
Batavia resident receives Hispanic Heritage Award from Buffalo mayor
posted by
Howard B. Owens
in
batavia
.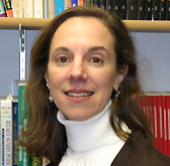 Press release:
M. Fernanda Astiz, PhD, of Batavia, received the 2013 Hispanic Heritage Award from Buffalo Mayor Byron Brown on Tuesday, Oct. 15. The honor was part of the City of Buffalo's observance of Hispanic Heritage Month, which is celebrated annually throughout the United States, from Sept. 15 – Oct. 15, and pays homage to the culture, tradition and contributions of American citizens with Hispanic roots. Astiz was recognized for her work in the field of education.
"Buffalo is blessed by the influences of many talented people and Hispanic Heritage Month is a wonderful opportunity for us all to develop more meaningful relationships with the many neighbors and friends who help to make our city unique," Mayor Brown said. "This year's award recipients highlight the educational achievements and contributions of Buffalo's Hispanic community, which is growing more every year."
An Argentine native, Astiz is an associate professor of teacher education and director of the Latin American Studies Program at Canisius College. She has published numerous research articles and book chapters both in English and Spanish on education governance; citizenship and democratic education; and minority acculturation, national identity formation, and schooling. The 2002 article Astiz co-authored, entitled "Slouching towards Decentralization: Consequences of Globalization for Curricular Control in National Education Systems," continues to be among the most cited articles of Comparative Education Review. She is currently working on a book on comparative education policy research.
Astiz received her master's and doctorate degrees in educational theory and policy, and comparative and international education, with a comparative politics focus, from Pennsylvania State University. She also holds a political science degree from the University of Buenos Aires, Argentina.
Canisius is one of 28 Jesuit universities in the nation and the premier, private university in Western New York.