January 11, 2014 - 10:18am
Blue Devils overcome flat fourth quarter to snag 57-55 win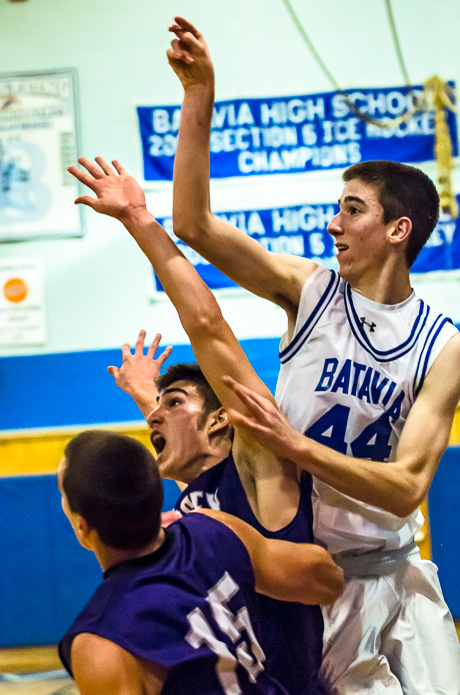 It's an established pattern for the Blue Devils so far this season: doldrums in the fourth quarter make it hard for Batavia close out a game.
Last night against Odyssey, the home squad turned a double-digit lead into a one-point deficit with 56 seconds left in the final period.
Clutch free throws in those closing seconds sealed a 57-55 victory for Batavia, but not without a few fingernails getting whittled down among the faithful.
"It's what happens every game," said Head Coach Buddy Brasky. "In the fourth quarters we can't score. We had a number of easy opportunities in that fourth quarter in the first four minutes or so, so we can maintain that lead or extend it and we missed them."
Fatigue late in the game for Jeff Redband and Justice Fagan, and defenses designed to thwart the two most consistent scores on the team, are the issues. Typically, the two standouts play nearly every minute of the game. Defenses run either a box and one (putting a man, typically, on Redband combined with an otherwise zone defense) or triangle and two(man on both Fagan and Redband and a three-defender zone).
It's a challenging puzzle for Brasky to solve.
"It's kind of hard because I can't afford to take Jeff and Justice out of the game for very long," Brasky said. "I don't have an answer to that, quite honestly. Other guys have to step up. They keep playing that triangle and two, and other guys are getting opportunities and they have to knock down some shots. That's the answer."
Batavia scored 17 in the first quarter, 20 in the second, 13 in the third and a miniscule seven in the fourth.
Last night, it was Jarrett Laskett who stepped up and took advantage of a lax defense in his vicinity. Laskett finished with 15 points, one more than Fagan's 14.
"Jarrett's capable of scoring," Brasky said. "He hadn't done it much, but he's starting to get a little bit of an opportunity now."
Redband led Batavia with 21 points, including three threes and eight free throws. He and Malachi Chenault had eight rebounds.
As the seconds ticketed away with the Blue Devils down a point, it was Redband the team turned to once again to sink the winning shots.
This time, the offense set Redband up on the near-side wing with a look at a three-point jumper. As he got the shot off he was fouled by an Odyssey player, sending him to the line with three opportunities to at least tie the game, if not give Batavia the lead.
Redband missed the first shot.
Were you nervous? Brasky was asked after the game. He smiled. "Yes," he said, "of course."
But with the game on the line, the ball in Redband's hands is never a bad thing. His shooting stroke as sweet and smooth as honey from the comb consistently delivers results.
"Jeff's clutch," Brasky said. "I really anticipated he would make all three. I would have been shocked if he didn't make at least two out of the three. Yeah, I was nervous, but he's clutch, so I didn't really doubt he would make two out of the three."
Two shots made and Batavia is up by one with 18 seconds left in the game. Odyssey fails to score on its possession and then Tyler Crawford is fouled.
Crawford came through at the line.
"Crawford's free throw, that was a big one, too," Brasky said. "That put us up two. All they could do was tie it. We're weren't going to give them a three at that point, so worst case scenario, unless we took stupid pills, it was going to be an overtime game."
Odyssey got the ball back with seven seconds left on the clock. Plenty of time to score. A dash down the court, a scramble under the board, shoot and miss, shoot and miss, and the final buzzer blares and the Blue Devils jump for joy.
Brasky-coached teams are drilled on defense and taught to never give up more than 13 points in a quarter.
Odyssey scored 16 points in the second quarter, but those final three points came on a prayer of a jumper from 20 feet out that hit the backboard and banked into the basket. Braskey said it was almost like it didn't count from a 13-point and under calculation.
"We held them to six or eight in the third (it was eight)," Brasky said. "So it was 57-55. That's three points more than we want to give them, and that's that banked three in the second quarter, so I was happy with the defense."
For Odyssey, a player Brasky said hasn't gotten a lot of playing time this year and has done very little scoring, Jamie Magone, came through big for the visitors, leading his team with 20 points. The only other player in double figures for Odyssey was Jacob Dixon, who had 14.
The win puts Batavia at 6-3 on the year and 2-1 in league play. The Blue Devils next play Eastridge on the road and come home again Jan. 17 for a game against Greece-Arcadia. Game time is 7:45 p.m.
Top photo: Jeff Redband is fouled as he takes a three-point shot in the closing seconds of the game.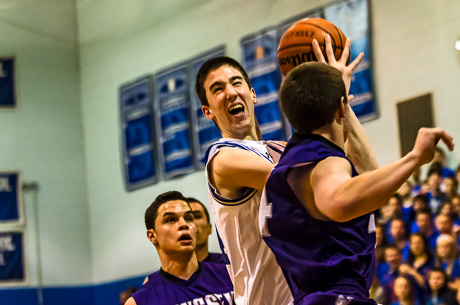 Jeff Redband drives to the basket in the first quarter.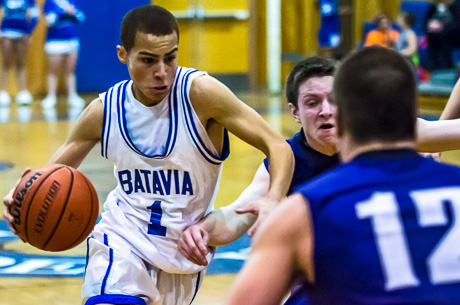 Justice Fagan looking for a lane to the basket in the first half.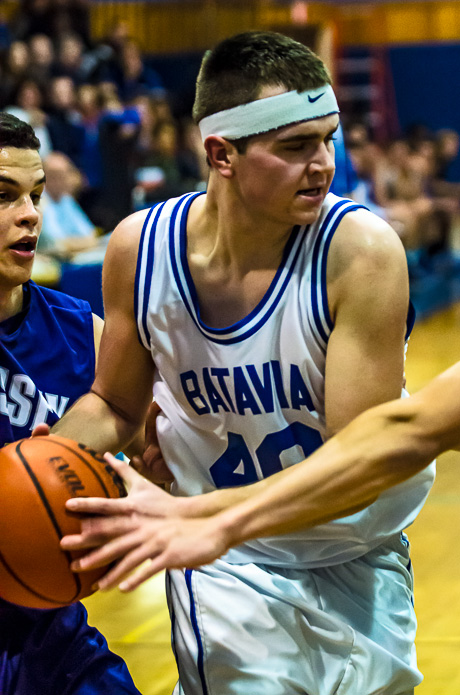 Tyler Crawford grabs a loose ball during the second quarter.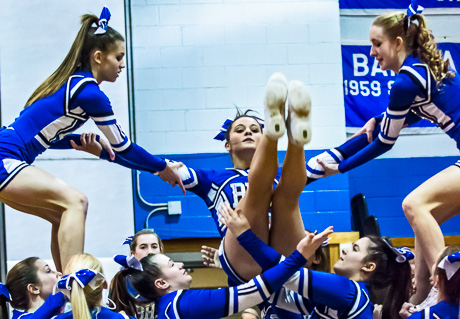 Cheerleaders during their routine at the half.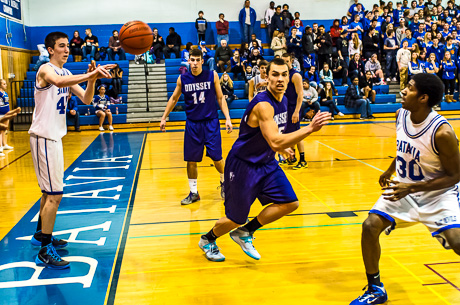 Jeff Redband Inbounding the ball in the fourth quarter to Malachi Chenault.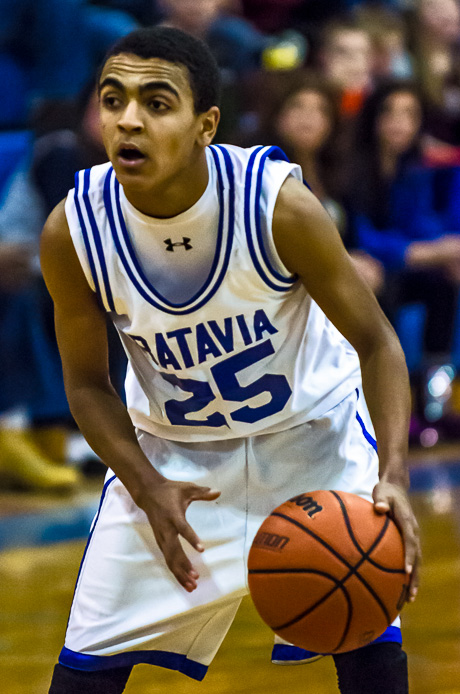 Jarrett Laskett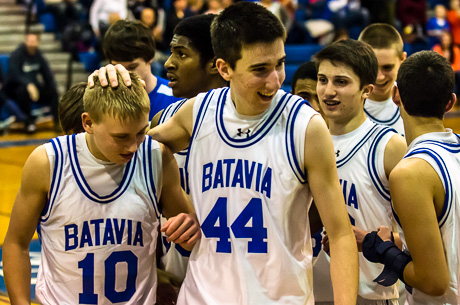 Victory celebration
To purchase prints, click here.