May 22, 2014 - 6:42pm
Boy Scouts of America honor local distinguished citizens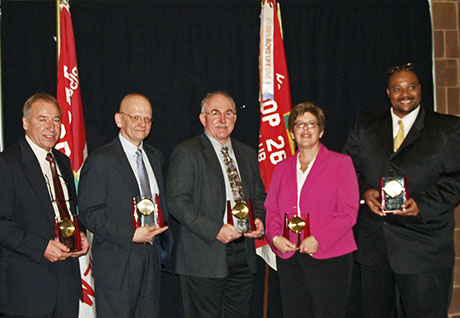 Press release:
The Iroquois Trail Council Boy Scouts of America recognized several distinguished citizens at the May 21 Annual Boypower Dinner held at Genesee Community College. The Boypower Distinguished Citizen's Award recognizes positive countywide impact through community and professional service, and a long tenure of service both through business and personal involvement in community causes.
Event Chairman Dr. Roger Triftshauser and Scout Executive James McMullen are pleased to recognize the 2014 Honor Roll of Distinguished Citizens:
Craig Bolesky, C&R Food Service (Livingston County)
Jodi Gaines, Claims Recovery Financial Services (Orleans County)
William Hayes, Turnbull Heating & Air Conditioning (Genesee County)
Peter Robinson, NYS Court Officer, Niagara Command (Niagara County)
James Rutowski, Sinclair Pharmacy & Warsaw Redevelopment Corp. (Wyoming County)
The annual Boypower Dinner is the premier event to raise funds to support scouting programs of the Iroquois Trail Council, which serves nearly 3,000 boys from 7-20 years of age and girls ages 14-21 in Genesee, Wyoming, Orleans, Eastern Niagara, and Livingston counties.
The event featured guest speaker Eagle Scout and NY State Supreme Court Justice Jeremiah J. Moriarty III, along with emcee and award presenter Daniel Fischer of WBTA 1490 radio.
The Boy Scouts of America is the nation's foremost youth program of character development and values-based leadership training. The scouting organization is composed of 2.7 million youth members between the ages of 7 and 20, 1.1 million volunteers and nearly 300 local councils throughout the United States and its territories.