January 16, 2013 - 3:43pm
Burglar caught in the act on Summit Street faces prison term after guilty plea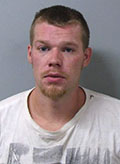 A Le Roy resident caught in the act of a residential burglary in Batavia while under surveillance by police detectives has accepted a plea deal that could send him to prison from five to 15 years.
Russell P. Cessna, 24, of 18 Pleasant St., Le Roy, came under suspicion following a tip to local law enforcement, who began monitoring his activities. 
He was a suspect in a number of burglaries in Le Roy, Stafford Pavilion and Batavia.
After Cessna broke into a house on Summit Street, he was apprehended.
Today, Cessna entered a guilty plea to two counts of burglary in the second degree in satisfaction of all 15 charges against him. The charges included burglary, grand larceny, criminal mischief and petit larceny.
Sentencing is set for Jan. 31.