December 13, 2012 - 4:00pm
City will seek another round of funding after grants paid to rehab 19 homes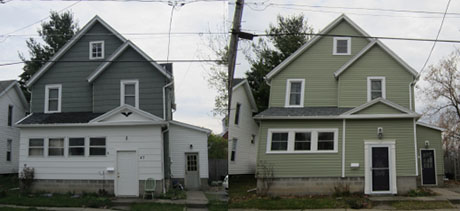 A housing rehabilitation program for moderate to low income homeowners, funded by a community block grant, has been a big success and the city would like to do it again, according to City Manager Jason Molino.
The original plan was to provide rehab assistance to 15 homes in the city with the $400,000 grant, but 19 houses were repaired, according to a report given to the city council on Monday.
"This is part of a bigger effort," Molino said. "Housing rehabilitation is one part of our approach to neighborhood revitalization. While only 19 properties were improved, that's 19 properties that might not otherwise be improved."
The city received 80 inquiries and reviewed 66 applications.
The rehab projects including roof replacement, porch replacement, plumbing and electrical repair and facade improvements.
Individual grants were limited to $24,500, but some homeowners were able to chip in some of their own money and go a bit beyond what the maximum grant would allow.
Jodie Freese administered the program for the city and put out each job to competitive bid. Of the seven contractors selected for work, six were based in Genesee County.
About 96 percent of the $364,522 spent on rehab stayed in the county.
Other costs associated with the program included $14,800 for a lead-based paint consultant and $25,435 for program delivery and administration. The city contributed $4,757 to help cover the costs.
The grant originates with the federal government but is administered by the state's Office of Community Renewal.
"We're very satisfied with the results," Molino said. "It was a great project and hopefully we can do it again in the future."
Photo: Provided by the city of a residence on Hutchins Street.