October 17, 2012 - 11:55am
Company corrects design flaw in Pavilion sewer system, delivers new tank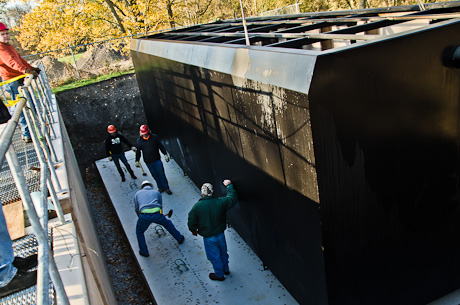 For years, Pavilion has dealt with a sewer system that can't handle the capacity of the 200 or so customers in the hamlet.
Not along ago, the contractor who operates the sewer system contacted the company that designed and manufactured the system, Pure Stream, and as it turns out, the company said the system actually has a design flaw.
Pure Stream constructed and delivered a new 30,000-gallon sewer tank at no expense to the sewer district. The district, however, is paying for the installation of the tank, which is taking place today.
Supervisor Ted Howard said the cost of installation is significantly under $20,000, but that there will be no rate increase for sewer district customers.
"Hopefully, from here on out, we'll have no more problems with the plant not having adequate capacity," Howard said.